Welcome Back to the Bar: Tips for Regaining Customer Confidence
Operations
Venues all over the world are making adjustments to make sure customers feel secure. Karina Elias, Food and Beverages Director at the Langham Hotel, shares some of the new procedures being implemented in their venues, and tips on how to make your customers feel safe when returning to the bar.
A Moment in History
The Langham Hotel, London opened in 1865 and has overcome many challenges in its long history. However, April this year marked an unprecedented moment in The Langham, London's history books, when, for the first time in 155 years, we had to close our doors.
A team was put in place during the closure to ensure when it was time to open, we did it right. The closure meant we had 14 weeks to prepare for our reopening, showing everyone we were ready to open our doors once again and continue to provide the same iconic service we are known for, safely and securely.
We have two bars and two restaurants at The Langham, London so we decided on a soft opening, with The Wigmore, our British tavern, first, and our remaining outlets at a later date.
We put a lot of thought into the reopening of The Wigmore and it felt like we were opening a new bar. It's not only about understanding the new normal and following the new guidelines, but we needed to make sure the environment, the ambiance, and the exceptional service we provided before the closure continued to happen. All the new 'barriers' would be seen as new steps of service, added in between the arrival and departure of the guest.
Extending a Warm Welcome
Our arrival experience has changed slightly, and we have made this as efficient and undisruptive as possible. Our guests are greeted with our temperature scanner; we have a TV monitor that instantly checks anyone walking through the door, without inconveniencing the customers, and we also use iPads to take names and contact details. Automatic sanitizer gel pumps are available to everyone at the entrance and on our bar counters. Our host ensures the maximum indoor capacity is not reached before letting people in and manages social distancing, queues, and entrances and exits throughout the bar (in addition to signage being on display).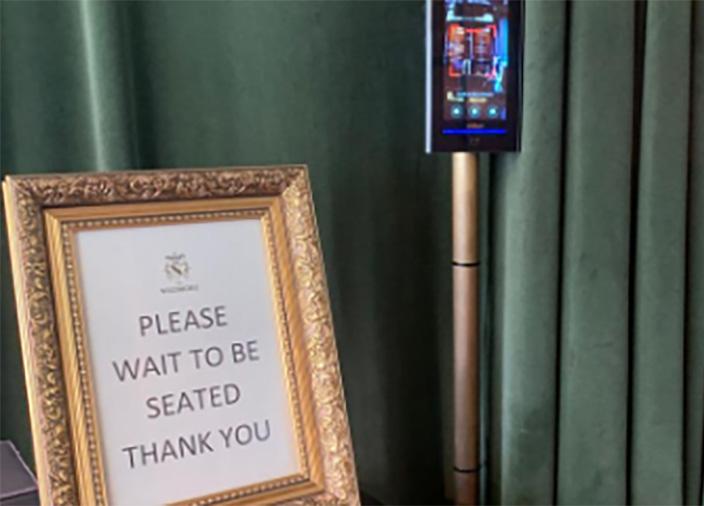 Signs of Success
We wanted to guarantee that the precautions we were taking to ensure the safety of our guests are clearly visible throughout, but also in line with our brand. Social distancing signage is displayed on arrival and on bar counters. We have also changed the layout of the room, ensuring there are six feet between each of our tables. Standing is not allowed indoors, only outdoors, and instead of closing the bar counter completely for walk-in orders, we have decided to build a socially distanced screen at the bar to allow our customers to order their drinks directly with the bartender; however, only two people are allowed at the counter at one time.
Informing our guests on arrival about our new 'sequence of service' is essential and makes the guest's visit a lot smoother. Our guests understand the steps we're taking are necessary to ensure everyone's safety and make them feel at ease and have reacted positively to the changes we've put in place.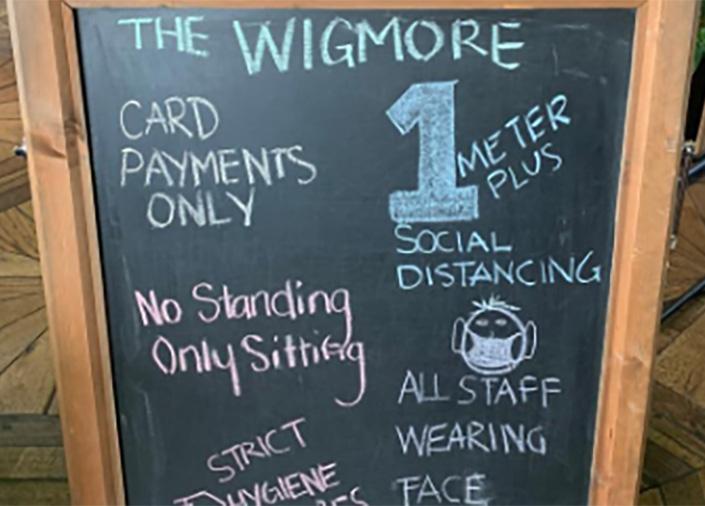 Key Changes
We have implemented a few key changes to service, set-up, and payment:
Table service is now more important than ever. We as colleagues need to be efficient but most importantly, read our guests' cues and understand how comfortable they feel with us around.

We have created QR codes for our menus and have added decals with the code to every table. We have also printed disposable menus and they are available on request. To make things even easier for our guests staying at the hotel, during the check-in process, we deliver a welcoming package. Inside you will find individual menus for our restaurant, bar, and also in-room dining service.

Bar snacks are now being served individually and sharing is not encouraged.

Table setup is very minimal. We only place items like condiments and menus if required, and cutlery, napkins, and general food setup items are only brought to the table at the same time as the food is delivered to minimize the amount of times a waiter approaches the table.

Pay-at-table functionality is encouraged to avoid passing a credit card to a server. We have also become a cashless bar.
The Great Outdoors
We are lucky enough to have space outdoors for our customers and we also applied for additional seats during the closure, which means we have increased our number of tables by eight, giving 32 extra seats.
We are also fortunate enough to have our Courtyard Garden which was previously reserved for events and weddings. We have opened up and extended our bar; however, we require our guests to use the QR code to maximize the speed of service, plus disposable glasses are used outdoors for safety and cleanliness.
On Our Best Barhavior
Only two bartenders are allowed to work behind our bar at the same time. We have also separated their stations to ensure there are no connections or sharing services between them. Gloves are required to touch fresh products for garnishes and tongs must be used at all times.
We have made small changes to our drinks list and that was mainly due to reducing the amount of fresh food suppliers to minimize the amount of deliveries we receive daily. If you're in a similar position then growing your own products is a way of getting round this.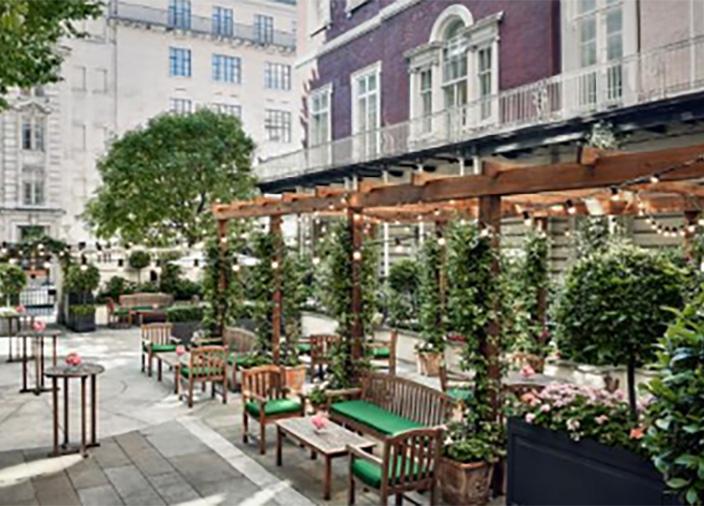 Key Takeaways
Welcome your guests safely; Consider temperature checks, taking contact details, and offering hand sanitizer.

Use signage to set guest expectations.

Reduce service touch points: introduce table service, minimize table set-up, and offer a menu that doesn't require sharing.

Consider available outdoor space to convert into seating areas.

Consider altering your menu for fewer supplier deliveries.