Essential Bar Skills: Recommending and Upselling
Recommendations and upselling are useful tools to help you elevate and enhance the guest experience whilst demonstrating your professionalism, expertise and passion for your craft. Taking a conscious approach to how you upsell and make recommendations will not only help you develop guest loyalty and trust but make your day-to-day work more rich and rewarding.
Estimated reading time: 3 minutes    
Recommending and upselling is an integral part of any successful hospitality business but is often misunderstood. It's easy for bar professionals to see making recommendations as an unnecessary, commercial exercise with the sole objective of making more money for the business. However, this couldn't be further from the truth, making effective recommendations and upselling are linked to delivering exceptional customer service.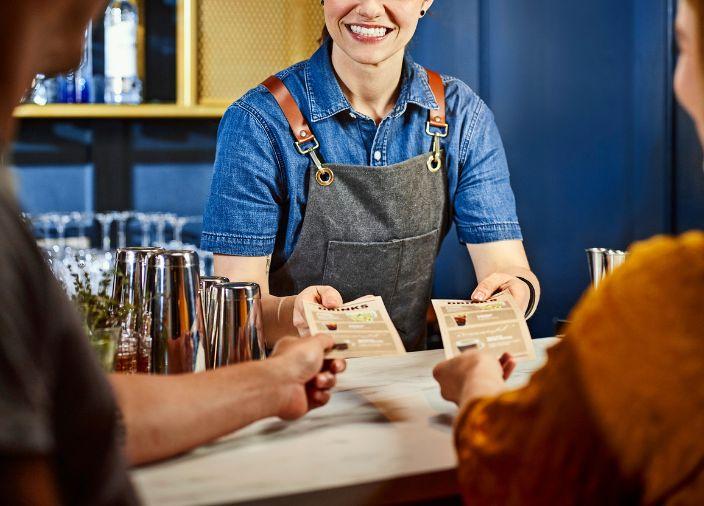 Why should you make recommendations?
The end goal of recommending a product, whether it's a spirit, a cocktail, or a food item, is to enhance and elevate the guest experience by making your guests feel special and valued. You're offering a recommendation that's been tailored to meet their individual needs. Making the right recommendation shows the care a bar professional has for the quality of service they deliver whilst also demonstrating their professionalism, knowledge and passion for their craft. 
The same could be said of upselling, it's a device to enhance and elevate the guest experience by suggesting a superior quality product to suit the guests' preferences within a recommendation, for example, the offer to include a premium spirit within a cocktail, tailored to deliver the best possible experience for the individual guest.
Understand your guests
The most important part of recommending is to ensure your recommendations are guest focussed; you should use conversation to understand your guests wants and needs, and then recommend products or serves that will deliver them. The art of recommending is about making the guest feel like their needs have been listened to and understood and that your recommendations have delivered exactly what they expected, or even better, exceeded their expectations. This makes them feel valued and in turn will generate guest loyalty and trust. 
Recommending a product that perfectly suits a guest's wants and needs is vastly more important than selling the most expensive product on the bar. Guests can tell when a recommendation is genuine and tailored to their preference, and when a bar professional is trying to sell for commercial reasons. 
Here are five upselling tips to boost your recommendation skills:
1. Read and recognise your guest – This could relate to a repeat visit where you remember a guest's preferred drink, or, reading and recognising a guest's current circumstances and tailoring your recommendations accordingly. For example, if a guest is arriving late to a social occasion they're unlikely to want to spend additional time studying the menu to choose their drink, and so reading and recognising this, and suggesting one or two of the most popular cocktails or cocktails that other guests in their party have ordered will help them make a quick decision and join the occasion.
"Hi, what can I get you? The Mojito's and Daiquiris are really popular here and a few of the group you're with have ordered the rum punch".
2. Know your menu - Being able to make recommendations without having to check the menu will make you look more professional, and by extension, build trust with your guests. This will increase the power of your recommendations (through authority bias) and make them come across as more genuine and personal. You should also try and memorise any essential dietary information about your menu, for example, which items are vegan friendly, so that when you're asked you can share this information accurately without hesitation.
3. Bring the enthusiasm - The menu doesn't just sell itself. When making suggestions or if you are talking about products, you need to show genuine excitement. If you don't show your enthusiasm, then guests aren't likely to buy into what you're selling.
4. Make it personal – Personal recommendations are intrinsically more powerful. You're the expert and so your opinion matters. By personalising your recommendations your guests will be much more likely to follow them and try what you're suggesting. For example:
"My favourite Cocktail is the Tom Collins, I love citrussy, fresh drinks and a Tom Collins ticks all those boxes".
5. Ask guests to name their favourite brand – when guests place an order, especially one that contains a spirit, always ask what their favourite brand is. If you stock it, you can deliver on their expressed preference and if you don't stock it, you can use your expertise to recommend a suitable substitute. This scenario also creates an opportunity to make a recommendation that delivers an elevated experience. For example:
Guest: I'd like a gin & tonic please.
Bartender: Do you have a favourite brand?
Guest: Yes, Tanqueray please.
Bartender: Have you ever tried Tanqueray Number 10? It's a luxury expression from Tanqueray that's made with the addition of whole, fresh citrus fruits which gives it a beautiful, zesty flavour. Would you like to try it?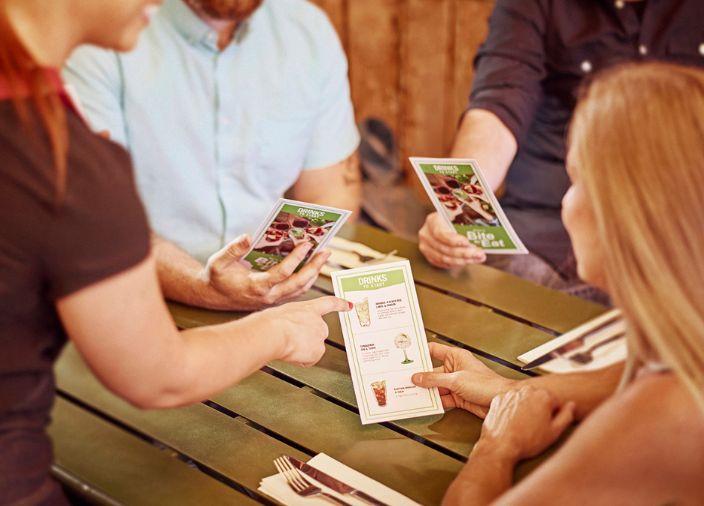 Proactivity is Key
There are two types of bar professionals: those who are reactive and wait for an order, or those who are proactive and look for opportunities to lead a service experience. Reactive bar professionals just go through the motions, but being proactive means offering recommendations which offer a truly tailored experience and help to create that feeling that a guest is valued. 
Opportunities to be proactive regularly present themselves and it's important to identify and recognise them. Going through the motions of making a recommendation often comes as second nature to bar professionals with more experience. However, by taking a more conscious approach, you can take your recommendations to a whole new level and elevate the experience you're delivering to your guests.  
Top Tip! Always be aware of generic orders such as 'Gin and Tonic' or 'Vodka and Coke'. Guests who don't specify a brand are often more open to suggestions and recommendations. This provides the perfect opportunity to find out what the guests preferences are and suggest something new.
The power of words and body language
Never underestimate the power of the words you use when making recommendations or describing taste and flavour to your guests. It's great to use variety and there's a wide range of descriptive language you can utilise to support your recommendation.
Personal –

It's my personal favourite, would you like to try it?

Sensorial –

It's deeply aromatic and herbaceous, would you like to try it?

Local –

It's what all our regulars here enjoy drinking, would you like to try it?

Scarcity –

It's a limited-edition special that's only available this evening, would you like to try it?

Popularity –

It's our most popular cocktail, would you like to try it?
In addition to verbal communication, your non-verbal communication and body language can play a key role in increasing the efficacy of your recommendations. Your body language should always express confidence and reinforce your capability.
Smiling

Nodding your head

Mirroring

Broad and open gestures
Far from being commercial tools, recommending and upselling should be viewed as tools to help you elevate and enhance the guest experience – part of providing the best possible serve, and ensuring a visit exceeds expectations. Understanding this core tenet and taking a conscious approach to how you upsell and make recommendations will not only help you develop guest loyalty and trust but make your day-to-day work more rich and rewarding.
Key Takeaways
Making recommendations and upselling are often seen as commercial tools – but are key to exceptional customer service.

Genuine recommendations recognise a guest's needs, and provide suggestions tailored to them. Upselling to a premium product is part of providing the best possible experience.

Recommendations can be based on your guest – for example understanding someone's specific circumstances, recognising a returning customer, or suggesting a new option from their favourite brand.

Or you can draw on your knowledge of your menu – highlighting possible options, responding to dietary requirements, and suggesting ideal food and drink pairings.

Recommending and upselling isn't just about your words: enthusiasm, descriptions, and body language can all help a guest make a decision with confidence.