The Ultimate Guide to Talisker Whisky
Powerful and spicy, with a peppery finish and a touch of island smoke, award-winning Talisker Single Malt Scotch Whisky is the only one on the Isle of Skye.
A Guide to Talisker Single Malt Scotch Whisky
Established in 1830 by brothers Hugh MacAskill of Eigg and Kenneth MacGaskill, Talisker whisky has been made by the sea in the oldest Single Malts Scotch Whisky distillery on the shores of the Isle of Skye, some of the most remote, rugged, yet beautiful landscapes in Scotland. The name Talisker comes from the old Norse for Sloping Rock, 'Thalas Gair'.
Talisker's smell and taste instantly connect the drinker with its rugged coastal heritage, described as "a wild spirit by the sea", for wild spirits everywhere. Its intense character comes from the fresh water drawn directly from underground springs next to the distillery, two very distinctive wash stills, and wooden worm tub condensers which, along with its unusual ABV of 45.8%, help set Talisker apart from other malts.
Flavor Profile
In addition to its signature 10-Year-Old, Talisker produces a selection of single malt whiskies for a range of different styles and tastes.
The Talisker family all have a peated, smoky flavor. This flavor comes from the peat burned during the malting process. Beneath the smoke you'll find soft fruits and cereal notes, and in the older expressions a rich vanilla imbued by the aging process.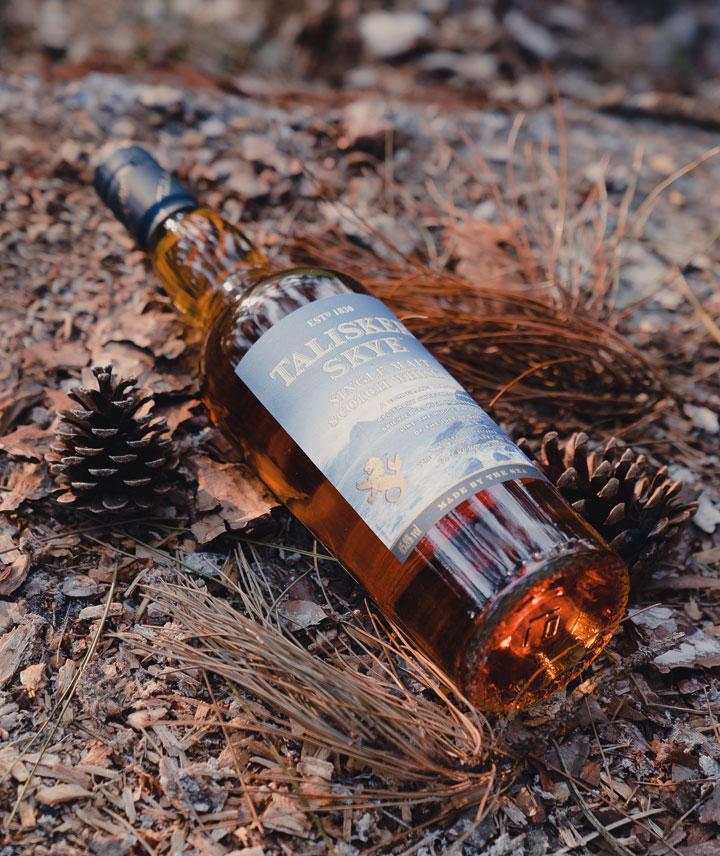 Perfect Serve
Talisker neat will allow guests to fully grasp and enjoy Talisker whisky in all its glory.
Scotch Tapes: The Maturation Process at Talisker
Join Erv as he explores the maturation process at Talisker Distillery, and get a sneak peek inside the Diageo Archives to uncover the history of the brand.
Finally, join Erv and Johnnie Walker master blender, Emma Walker, in a guided tasting of Talisker 10!