Buchanan's is a Scotch whisky brand built on a rich family history since 1884.
Estimated reading time: 4 minutes
History & Heritage
Buchanan's is a brand loved by many thanks to its values, heritage and provenance. 
Buchanan's Scotch dates back to 1884 when James Buchanan, an entrepreneur with a natural talent for whisky-making, sought to create a superior blended Scotch. Using only mature Scotch whiskies, aged in casks for a minimum of 12 years, he created a brand that would go on to be appreciated around the world for its light, smooth and refined flavour.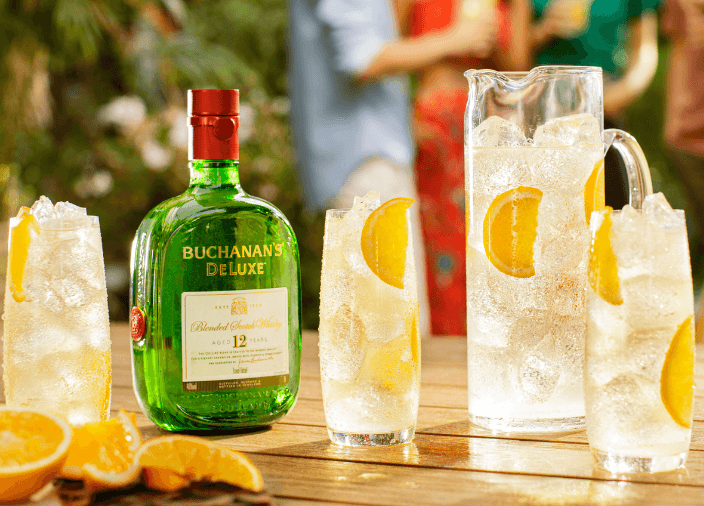 1885: Supplier of the British Parliament
Whisky produced by James Buchanan was considered to be of excellent quality. Barely a year after starting his business, he opens new offices at Bucklersbury in the City of London and starts providing whisky to the British Parliament.
1926: Buchanan's Finest Old Liqueur is Launched
Buchanan's Finest Old Liqueur hits the market with a bottle inspired by the canteen of soldiers from World War I. This shape was chosen as a symbol of friendship to all those who drink it and is maintained in the bottle today.
1928: Charitable Donations
Throughout his life, James Buchanan made numerous donations. His generosity was marked with a commemorative plaque bearing the motto 'Hinc Clarior Spiritus' meaning 'Hence the Brighter Spirit'. This crest is engraved on the back of the bottle to show that the quality of the product inside will lift the spirits of all who drink it.
Today:
Buchanan's is the leading premium Scotch in Latin America and one of the largest globally, selling more than 1.5 million 9l cases (IWSR 2016).
Range
Buchanan's 12 Deluxe: The heart of the Buchanan's family - a smooth blended Scotch Whisky with notes of orange, chocolate and honey sweetness. 
Buchanan's Master: A delightfully complex blend. The personal creation of Buchanan's Master Blender, Keith Law, this is a whisky with smooth sweetness and fresh and spicy notes on the tongue. 
James Buchanan's 18 Special Reserve: A distinctive, rich and well-rounded whisky, with flavours of citrus, nuts, honey and oak. An icon of excellence and quality among Scotch connoisseurs. 
James Buchanan's Red Seal: The most premium of Buchanan's blends, a luxury whisky of rare craftsmanship and smoothness, inspired by the Buchanan's Royal Household blend made for Edward VII in 1901.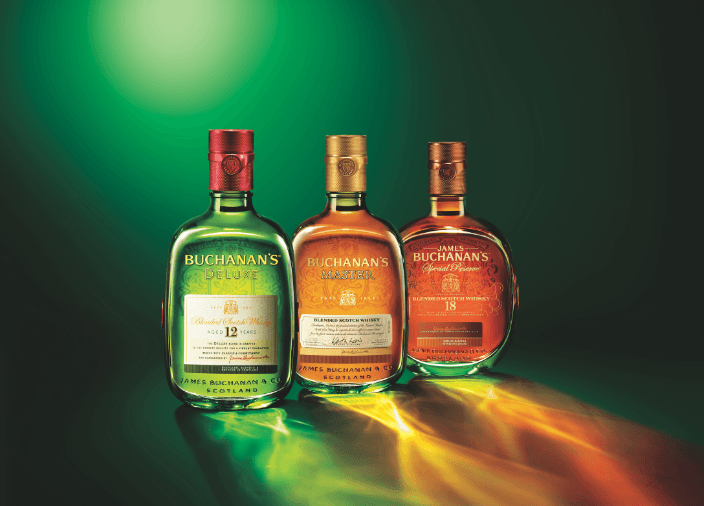 Awards
Buchanan's 12:
San Francisco World Spirits Competition: Gold Medal 2015, 2016, 2017
Ultimate Spirits Challenge 2016: Winner of Chairman's Trophy, Blended Whisky Scotland
Buchanan's Master:
The San Francisco World Spirits Competition: Double Gold 2015, 2017
Ultimate Spirits Challenge2017: Winner of Chairman's Trophy, Blended Scotch Whisky
Buchanan's 18:
The San Francisco World Spirits Competition: Double Gold Medal 2013, 2014, 2017; Best of Class premium award for the "Best Blended Scotch – 16 Years and Older"
Concours Mondial de Bruxelles: Gold Medal Spirits Selection by Concours Mondial de Bruxelles 2015