How to Build Great Menus
Profitable Menus
Menus…every bar has one but have you thought about what makes a great menu? We are sharing our top tips for making enticing menus and also asking industry expert Gerry Calabrese for his experience in building great menus.
A menu is the gateway to your bar's drink list and with evidence suggesting that ⅓ of customers have not chosen their drink when they arrive at a bar, an appealing menu is an important tool in driving your customer's choices.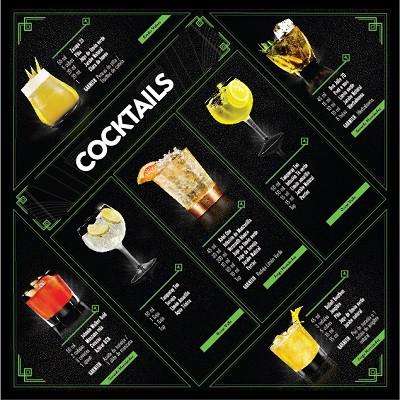 Menus
Menus are very important influencers in driving consumer decisions when selecting which drink they would like in a bar. By displaying an appealing cocktail menu you can ensure customers are more likely to choose mixed drinks, which offer an increased sales margin compared to Beer and Wine. Key factors that shape the effectiveness of menus are the use of appealing pictures and descriptors as these can be the difference in encouraging a customer to choose a cocktail. Evidence suggests that when it comes to menus "less is more" and you should choose to show a few options with good images and appetizing descriptors. These factors will help in driving successful menu formats.
Every menu is different and there are many new ways of listing drinks. Gerry Calabrese from Wringer + Mangle was a little more experimental when it came to creating his cocktail menu.
"When we were conceiving Wringer + Mangle, I knew I wanted to base the cocktail menu on the classic Collins cocktail. The Collins cocktail has a great pedigree and so much room to maneuver, in my opinion; it is a perfect fit for the restaurant vibe.
I love a Gin joint or Whisk(e)y saloon but it's difficult to adopt a style of cocktail or a lead spirit to dominate a menu without it spilling over and affecting the food concept. With the Collins, you have free reign to use any base spirits you like, select any flavor profile you wish and best of all you can opt for seasonal ingredients which is a huge part of my philosophy, not just here but in all of my ventures.
Our Collins menu works really well for us here at Wringer + Mangle because we're able to utilize the properties of a Collins to create drinks to whet the appetite, drinks that pair well with our food and drinks to wash down your dessert with afterwards.
One of the really great things about taking inspiration from the Collins is that our bartenders are really pushing the boundaries of what they can create that still fits within the restrictions of a Collins cocktail. Off the back of this we've developed our own sodas to create another way to breathe flavors into our drinks, which in turn we have used to further spirit serves as well as re-evaluate what other common ingredients we can create and reuse ourselves.
In general everyone loves a Collins; it's such an accessible category of drink, both for our guests and our staff. Not only does our concept menu complement our food but it also stands strong by itself, which is imperative for any drinks list. In these modern times, the restaurant bar is becoming the trendy place to be, so we needed to be sure that we were totally on top of our game when it came to our cocktail menu and I truly believe we've hit it out of the park. It has helped us to form a strong, unique identity, not only in our neighborhood but in London as a whole, I can honestly say that no one else is doing what we're doing and it's great to be different.
Implementing a concept based around a cocktail can come with drawbacks however, as you have to cater for a variety of tastes – Tequila cocktails go great with Mexican food, for example, but unfortunately not everyone likes Tequila. If you're looking to pair your cocktail list with your food, I would suggest selecting a style or theme of cocktail that has easily interchangeable elements, enabling you to tailor make a drink to suit all palates.

One of our most popular Collins cocktails is the Pistachio Collins, consisting of a Gin and pistachio infusion, homemade toasted almond syrup to sweeten and fresh lemon juice to balance the drink. It's then topped with our homemade ginger, honey and lime soda."
Consisting of a Gin and pistachio infusion, homemade toasted almond syrup to sweeten and fresh lemon juice to balance the drink. It's topped with homemade ginger, honey and lime soda.
Pistachio Collins
Whether you are thinking of introducing a concept menu like Gerry or want to ensure your current menu is utilized as best as possible, refresh your memory with these top menu building tips.
When it comes to designing menus, "less is more" to make it easier for consumers to choose and easier for you during busy spells
Make it profitable, maximizing your opportunities to upsell
Use descriptors for all cocktails
Ensure you display clear pricing
Hero your bar signature serves as a point of differentiation