How to Build a Network for Success
Discover how to build a network of like-minded individuals whose advice, support, and opportunities are essential for your bar career success.
Estimated reading time: 3 minutes
Are you looking to advance your career in the hospitality industry? If so, building a solid network is crucial to your success. Whether you're a seasoned professional or just starting out, having a network of like-minded individuals who can offer advice, support, and opportunities can make all the difference.
Explore the importance of networking in the hospitality industry and discover tips on how to grow and maintain a strong network.

The Power of Paying it Forward
A positive relationship with colleagues is about earning and maintaining your team's respect and contributing to a positive working environment.
A simple way to do this is by creating a 'pay it forward' culture. What steps can you take to make the next person's shift easier? Go the extra mile; your team will see and appreciate it and want to return the favour.
Play a willing role in creating a positive culture where relationships flourish and a team knows they have each other's back.
Five Tips to Build Professionalism
Punctuality – Punctuality is synonymous with professionalism. It signals that you take your job seriously and care about showing up for your team.  
Work Ethic – Always show your expertise and willingness to be part of the team while you're on shift, especially when the venue gets busy. 
Presentation - Take good care of your appearance and ensure you're well-rested and well-fed to keep your energy up throughout your shift.  
Accountability – Be accountable for your actions, receive praise and feedback and own your mistakes to demonstrate that you take your job seriously. 
Consideration – Empathise with your colleague's feelings, ideas, and efforts, support colleagues' work-life balance and treat everyone with kindness and respect.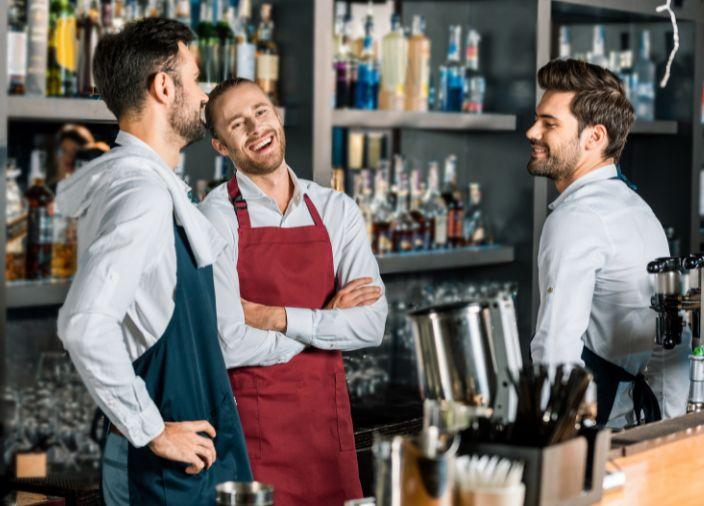 The Positivity Effect
Aim to be a source of positivity in your venue and to become a leader that the team looks up to and respects. Negativity spreads like wildfire, and no one wants to be associated with someone who is always negative. While everyone has good and bad days, it's important to be self-aware and not impose negative feelings on your colleagues.
Stay Humble
Nobody enters the industry as an expert. Be open to learning and encourage peers to share their insights and knowledge. Value experience and people who know things you don't and who can help you grow in your role.
Clear Communication
For good working relationships, communicate clearly and consistently using active listening and positive body language.
Be mindful that there are plenty of opportunities for miscommunication in a fast-paced environment.

If someone in your team communicates with you in a way you don't like, take a moment to consider why it came across that way before reacting.

Consider colleagues coming from multiple countries and cultures, as the usage of English may differ from person to person depending on their proficiency.

Be aware of how you communicate

with your colleagues and be open to feedback and suggestions for improvement.

Seek to

communicate with kindness, respect and empathy

, regardless of the situation.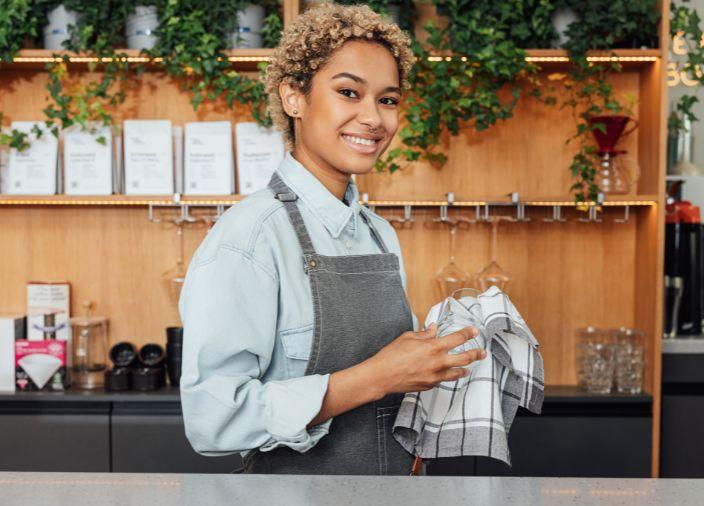 It's About Who You Know
In the world of hospitality, connections open up a range of career opportunities from ex-colleagues or hospitality professionals, be an encouraging source of support and help you stay ahead of recent industry developments and trends.   
Take the time to get to know your regular customers and colleagues. 

 

Show an interest in customers' hobbies or talk about their family and friends and

find common ground to create lasting connections

beyond the bar. 

 

Connect and

bond with your colleagues over a post-shift meal

or a pre-shift coffee to get to know your team personally.  

 

Work on maintaining your professional contact

s with regular meet-ups, LinkedIn, and social media.
Key Takeaways
The Power of Positivity:

Building a strong network starts with fostering positive relationships with colleagues and showing willingness to support your team.

Five Tips to Build Professionalism:

Punctuality, a strong work ethic, personal presentation, accountability, and consideration for others are essential to your professionalism and reputation.

Maintain a Good Attitude:

Positivity is contagious, and a good attitude enhances your reputation and creates a more pleasant work environment for everyone.

Stay Humble:

Acknowledge that you are constantly learning in the hospitality industry. Embrace every opportunity to learn from others and improve in your role.

Clear Communication:

Actively listen, use positive body language, and be aware of potential miscommunication in fast-paced environments. Always strive to communicate with kindness, respect, and empathy.
Building and maintaining a strong network is invaluable for anyone working in the hospitality industry. It establishes a supportive community of friends, colleagues, and peers who can help navigate the job's challenges, foster camaraderie, and enhance your reputation as a highly respected team member. Investing in these relationships is an essential investment in your future career success.
Do you want to improve your professionalism and advance your bar career? Find helpful resources, expert advice and practical tips when you sign up to the Diageo Bar Academy