Belsazar is a special wine aperitif, that unites traditional traits, craftsmanship and high-quality wine from the south of Germany with the urban and modern lifestyle of Berlin.
Estimated reading time: 5 minutes
History & Heritage
Belsazar is a special wine aperitif, uniting traditional traits of craftsmanship and high-quality wine from the south of Germany with the urban and modern lifestyle from Berlin.
Max and Sebastian, two friends and the founders of Belsazar, shared a mutual passion for regional wines from Baden, marvellous distilleries and exceptional recipes, together with a creativity they had nurtured on the streets of Berlin.
Their mission was simple: create a delicious and high quality low ABV drink. Working with Schladerer, a well-known distillery in the Black Forest that has produced fruit brandies since 1844, they developed the recipe, identifying the right macerates and perfecting the finishing touches.
In honour of Schladerer, Max and Sebastian named their vermouth after its founder, Sixtus Balthasar Schladerer.
The range consists of four different flavours: Rosé, White, Red and Dry. Each variety of Belsazar has its own macerates, consisting of extracts from herbs, blossoms, husks, spices and peels which are left to mature in large demijohns.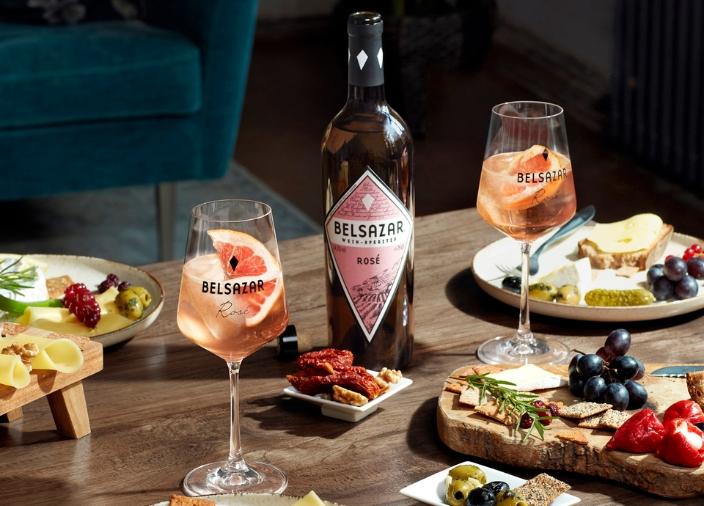 Flavour Profile
Belsazar Rose: Bittersweet and summery, offering a harmonious blend of pink grapefruit, Seville orange and orange blossom with a raspberry and redcurrant finish. 
Belsazar Dry: The aroma of summer fruits, chamomile and a hint of fresh yeast take centre stage, followed by bitter notes of gentian, Seville orange, cinchona, coriander and absinthe. 
Belsazar Red: An abundance of complex aromas. Vanilla, candied orange, bitter chocolate and spices such as nutmeg combine to leave a sweet impression, offset by a bitter hint of wormwood. 
Belsazar White: A mild and sweet aroma with a hint of elegant vanilla. Clear notes of dried peach and orange are accentuated by the presence of herbs and spices. 
Perfect Serves
Whether it's a light spritz to accompany lunch, a casual summer sipper, or an aperitif before a delicious meal, the Belsazar Rosé & Tonic is the perfect fit. Light-hearted, fresh and versatile, it really is a cocktail for all occasions.