Introducing a premium blended Irish Whiskey, created with Ireland's best bartenders. Roe & Co has the signature smoothness of Irish whiskey with added layers of colourful flavours including vanilla, toffee and spiced orchard fruits.
Estimated reading time: 4 minutes.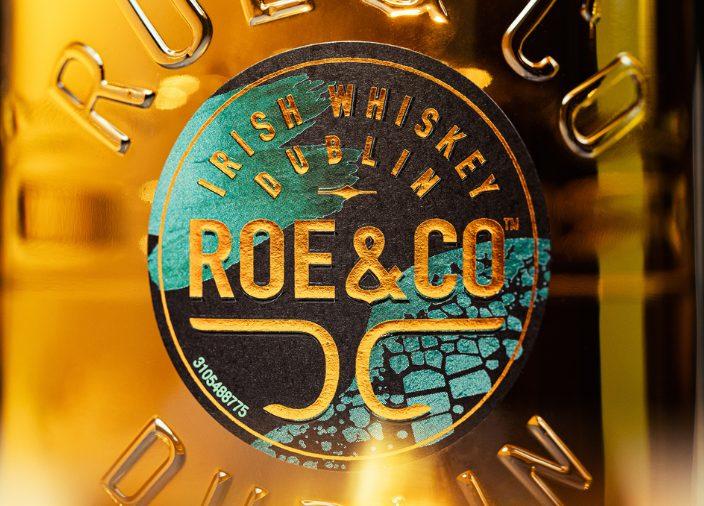 History & Heritage
Roe & Co. Distillery company is a modern Irish whiskey distillery, with methodical science and creative collaborations at its heart

Roe & Co is named in honour of

George Roe

, the once world-famous whiskey maker who helped build the golden era of Irish whiskey in the 19th century. The brand's story is inspired by the past success of Irish whiskey yet informed by its mistakes

His distillery, George Roe and Co extended over 17 acres on Thomas Street in Dublin and was once Europe's largest distillery. As neighbours for hundreds of years, George Roe and Co and Guinness were two of the biggest names at the heart of Dublin's historic brewing and distilling quarter

Not only a successful entrepreneur and quality whiskey maker, George Roe was also a social progressive and philanthropist and was highly regarded by all. However, the inspiring story of this well-loved character and his famous whiskey has largely been lost to history since the distillery closed its gates in 1926. All that remains today is the old smock windmill, named St Patrick's Tower and a pear tree dating from 1870 at its base, which still flowers to this day

Roe & Co is working to revive this category and the legacy of brewing and distilling in the Liberties of Dublin, working tirelessly to usher in the new Golden Era
Heroing the Bartender
Roe & Co was born out of a partnership between Diageo Master Blender Caroline Martin and five hand-picked Ireland based bartenders, with the task of creating a unique blended Irish whiskey that would hold its own in cocktails.
In the true spirit of collaboration and endurance, this vastly experienced team trialled over 100 prototype blends before they created this truly extraordinary expression of Irish whiskey.
Roe & Co is an Irish whiskey made by bartenders for bartenders and as such, bartenders will always be a key partner in telling the Roe & Co story to the masses.
Flavour Profile
Roe & Co is an elegant Irish whiskey, packed with delicious layers of flavour including vanilla, caramel and ripe orchard fruit.
A masterful blend of rich malt and smooth grain whiskies aged in a high proportion of first-fill Bourbon barrels gives this Irish whiskey its depth of flavour.
Bottled at 45% ABV with smooth, non-chill filtration, this whiskey enhances any serve, retaining and releasing its full flavour.
Roe & Co Serves
Roe & Co's notes of vanilla, caramel and ripe orchard fruit pair perfectly with soda or tonic water and a zesty kick of grapefruit. This blended Irish whiskey is the perfect choice for a classic highball serve.