The Journey to Johnnie Walker 
Author: Dr Emma Walker, Johnnie Walker Master Blender and Lead Technical Specialist
Estimated reading time: 8 minutes
Learn all about Dr Emma Walker's incredible journey with Johnnie Walker as she takes us through her career to date.
1. Firstly, are you related to Johnnie Walker? 
It's a sheer coincidence my surname is Walker! Although, my father's nickname in the Scottish Navy was 'Whisky' and there's a few other coincidences I find a little spooky. Was it my destiny? Maybe so.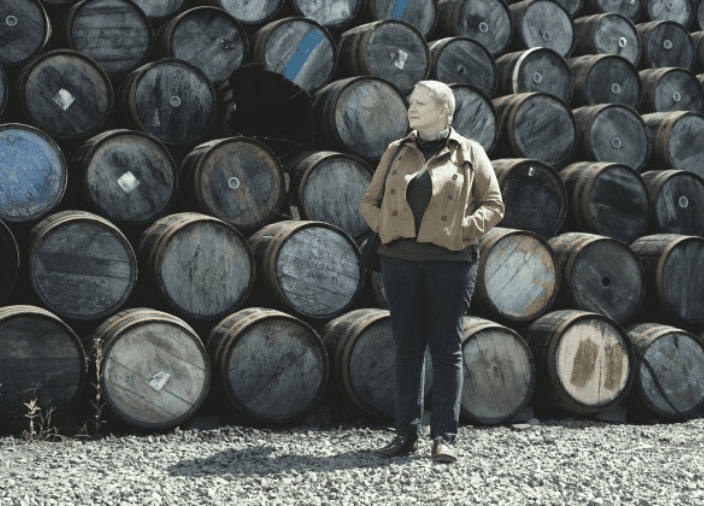 2. WHAT WAS YOUR PATH TO WHISKY AND HOW DID YOU GET STARTED BLENDING?
Pretty early on, I realized my passion was in science, so I went on to study for a PHD in chemistry. After finishing university, I took a job as a chemist but had a growing interest in the drinks industry because of my passion for flavour. I went for a job at Diageo's Technical Centre in Menstrie in 2010 and haven't looked back since. 
3. WHAT ATTRACTED YOU TO JOHNNIE WALKER AS A BRAND?
When I first worked at Menstrie I was amazed at the number of excellent brands in the Diageo family. It inspired me, and I knew this could be a really great place to work with the potential for me to do something exciting. It turned out to be a great decision, as I now get to draw from some 10 million casks of maturing Scotch to craft Johnnie Walker whiskies. That's the kind of stuff that gets someone like me excited! 
4. And what is the process for developing new whisky? 
When we're working on innovation projects, the onus is on flavour and, increasingly, occasion is being considered more. One of the key things when we look at or test new spirits is to consider the moments they'll be enjoyed. So, we look at isolated flavours but also, increasingly, test more with mixers and cocktails, too.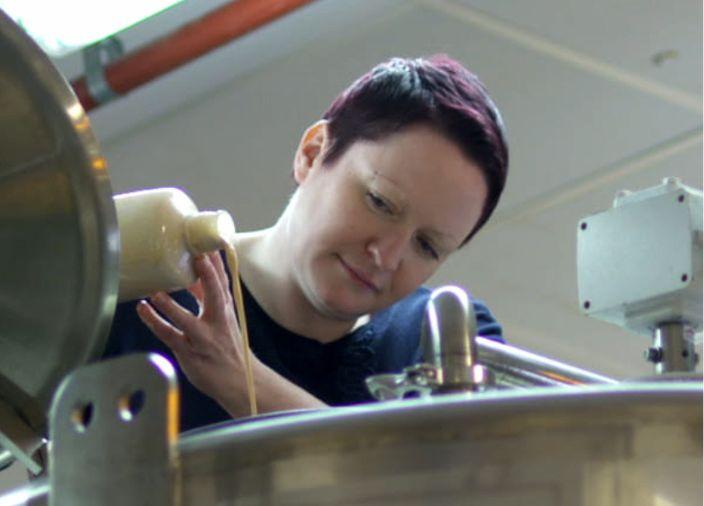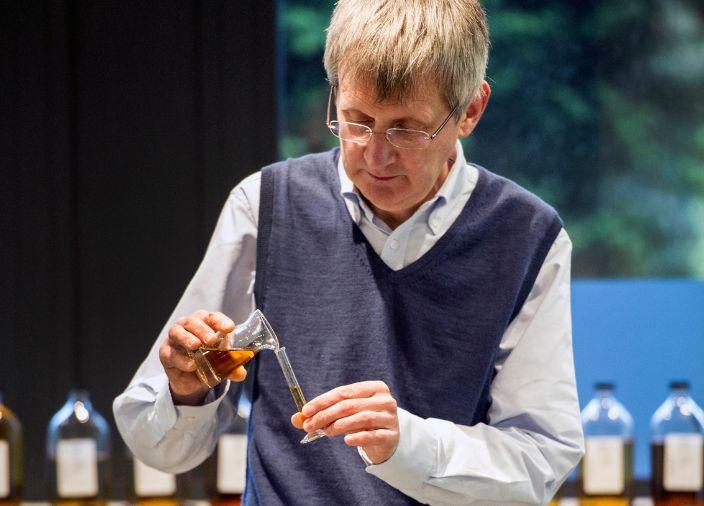 5. What's been your biggest learning from working with former Master Blender Jim Beveridge? 
Working with Jim was fantastic; I've gained a deeper understanding of flavours and how to work with them during the production process. Learning how to marry them together really informs our whisky making process.   
6. And most unexpected? 
The biggest surprise is how much you continue to learn from each other. You're joining an amazing collection of people with great experience in the industry, which can be quite daunting, but everyone is just as hungry to learn from new members of the team and that's amazing.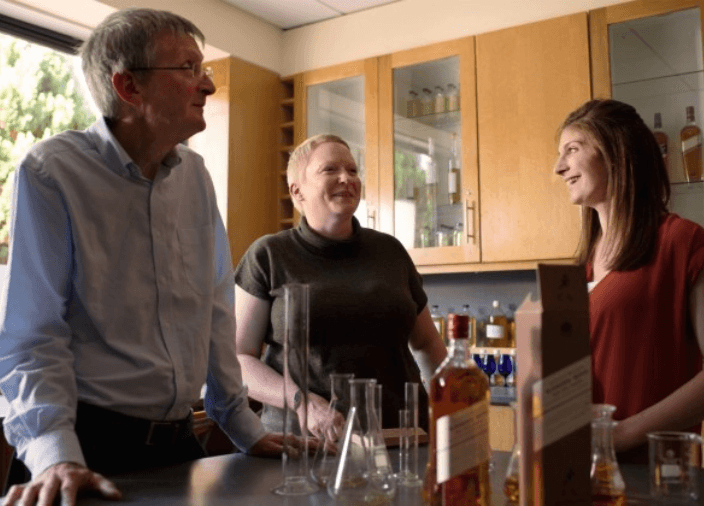 7. IS THERE A LOT OF PRESSURE WORKING ON JOHNNIE WALKER AND THE HISTORY IT CARRIES?
Johnnie Walker has an unbroken line of Master Blenders stretching back almost 200 years, so there's a lot of heritage and experience to draw from. This, combined with a thirst for learning and absorbing new production techniques and innovations, means we're always growing and evolving. I count myself lucky that I've found my way to a job and industry that I really love.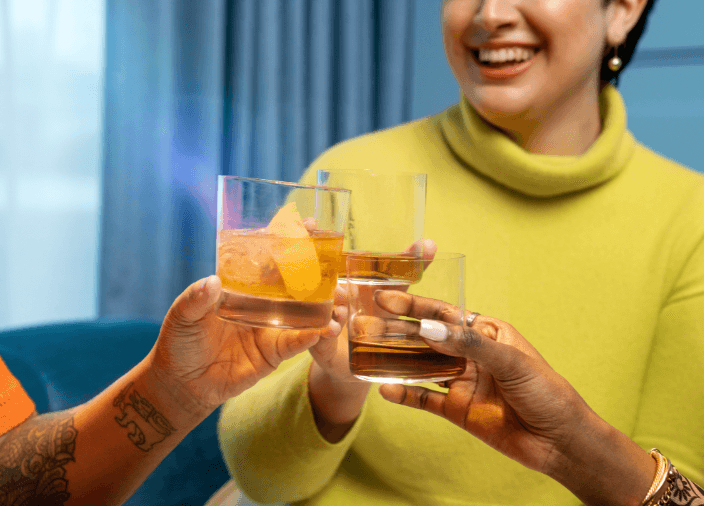 8. What's your favourite thing about working at Johnnie Walker? 
Working with a small team that relies on and learns from each other is a large part of why I enjoy working here so much -creating great Scotch is a real team effort. I really enjoy innovation and the process of working to craft new spirits with flavour(s) as the central focus.
9. HOW HAVE YOU FOUND BEING A FEMALE IN A MALE-DOMINATED INDUSTRY?
To be honest, in my experience this hasn't been the case. Our team at Diageo has an even male to female ratio and we have female Master Blenders at Bell's and Buchanan's. This ratio is also reflected in distillery management, and I'm seeing more female operators and engineers at different distilleries and sites across Scotland. 
10. LOOKING FORWARD, WHERE DO YOU SEE THE FUTURE OF WHISKY?
The perception of Scotch is changing – gone are the days when it was seen as an old man's drink. I'm delighted to be a part of such a historic craft but also one that is growing and evolving so quickly. It's an exciting time to be in whisky. 
11. Favourite spot to enjoy a nip of Johnnie? 
At the end of the day, it's all about who you're enjoying it with. But, if you're putting me on the spot I'll go with my favourite bar, 'The Last Word Saloon' in Edinburgh's Stockbridge. It's a great little relaxed bar with a solid selection of whisky and excellent cocktails – definitely worth a visit if you're in town!  
KEY TAKEAWAYS
Follow your passion and do what gets you most excited in life.

No matter how experienced you are, it's important to be open to learning new things from your team.

First and foremost, always consider the moments spirits will be enjoyed in.

The perception of Scotch is changing – it's an exciting time for whisky!