How to Create a Profitable Bar Menu
A great menu is more than just a list of drinks you sell. In this video Julian de Féral discusses tips for creating a profitable bar menu.
Author: Julian de Féral, industry expert and consultant.
Estimated watch time: 9 minutes
When designing a drink menu, it's not just about creating a list of drinks you sell in your venue. Instead, think of your bar menu as an extension of your customer experience, brand image, and identity.
A menu influences a customer's choices, inspires their future orders, and evokes feelings about your venue. When shared online, it allows you to set the tone of voice, even before a guest sets foot in your bar.
In this Bitesize Session, industry expert and consultant, Julian de Féral, shares tips for creating a profitable bar menu and highlights some examples of creatively designed menus.
Key Takeaways
Most people tend to pick their orders from the start or end of the menu — take advantage of these spots to list your favourite serves, seasonal cocktails, or special offers.

Some customers prefer recommendations — you can add a bartender's recommendation section to your venue to save your guests from choice overload.

52% of alcohol is consumed with a meal — take this opportunity to add drinks and food pairings to optimise guest spend and profitability.

A bar menu influences the choices and experience of guests in your venue — categorise your menu items to simplify their choices, while highlighting the popular serves in each category.

A third of guests are usually undecided about what they'll order in a venue — use your menu format and sections to influence their choices and ensure a positive experience.
MASTERCLASS CHAPTERS
00:00 - 00:38 - Introduction
00:39 - 01:19 - Menu Overview
01:20 - 03:25 - Creatively Designed Menus
03:26 - 04:22 - Menu Format Changes
04:23 - 05:12 - Primacy and Receny Effect
05:13 - 06:15 - Authority Bias
06:16 -06:56 - The Food & Drink Opportunity
06:57 - 07:44 - Simplify The Ordering Experience
07:45 - 09:10 - Create Contrast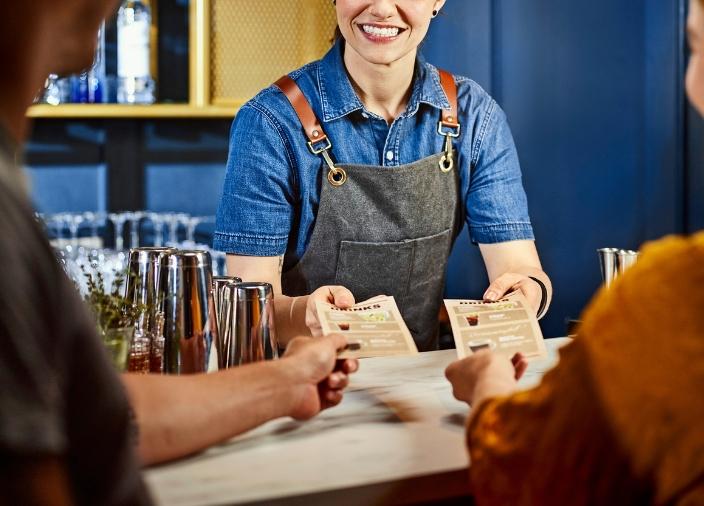 Useful tools
For more insightful tips on bar menus, download our guide on "Creating the Perfect Menu." It covers design, messaging, and advice on list ordering, as well as other tips.