Table Service 101: Leading Drinks Expert Shares Insider Tips
Leading drinks expert Adam Dow shares his go-to tips for bar managers and servers to master the art of excellent table service.
Estimated reading time: 7 minutes
Adam Dow on exceeding customer expectations, making the most of your menu and tailoring your drinks recommendations
1. Provide a service your guests can't get at home.
With the rise of online cocktail tutorial videos, everyone thinks they can create great cocktails at home.
So, how can you cement your competitive advantage and coax customers away from their kitchens?
The answer rests in 'creating an experience.' Going above and beyond with your table service is key to making guests feel special and instilling a sense of excitement
2. Tailor your table service approach.
We live in a very personalised world. Everyone has their specific preferences, the order they want to do things in, how they like their food or drinks, when they want them and the environment they want to experience them in.
A 'one-size-fits-all' approach doesn't work anymore. Your guests come from diverse demographics so, if you can tailor your approach, you'll make guests feel welcome and valued. 
Adam's tips:
Gauge when – and when not – to approach your guests based on body language. 

 

Check if guests need more drinks and ensure they've enough water.

 

Provide guests with recommendations based on previous orders.

 

Get to know your regulars; offer them their favourite drink or recommend another drink you think they'd like.

 

 
3. Become the perfect server
There's no uniform way to become a perfect server. We are all individuals and the very best servers bring their personality to life at work.
Adam's tips to be a great server:
Be present but not overbearing.

Develop a sixth sense for arriving at the perfect moment with extra food or drinks.

Get your guests onside quickly; you'll be more likely to recover from any difficulties.

Know when to take risks when recommending something slightly different, like a lesser-known varietal of wine

Be genuine in all interactions.
4. Learn from the best
Table presence is crucial in ensuring a successful guest experience. It's as important to know when to step away from a table as it as to know when to approach. Observe top servers and notice how they subtly change their approach to each group.
In the end the answer is quite simple, would you serve a hen or stag party differently from a grandparent's birthday? Hopefully you would!
5. Perfect your body language and social cues.
Body language is more than half of communication.
To ensure you're giving off positive vibes to customers, smile, remember to speak in a clear tone, and make eye contact." 
Everyone can determine when someone is angry, sad, emotional, happy, or confused. It's important to see this and adjust your approach accordingly. 
Adam's three tips to master social cues: 
Pay attention to facial expressions

.

 
Observe guests from a distance to determine if they're enjoying their drinks - first impressions matter and if a guest doesn't like a drink, they'll likely not hide that. Often though, some guests are too polite to say anything when you check on them. 
Have the confidence to step in if a guest isn't enjoying their drink, even if they might be too shy to admit it. This is an excellent step in service. We don't always nail recommendations and sometimes a drink might just have been made incorrectly. Observation is key here.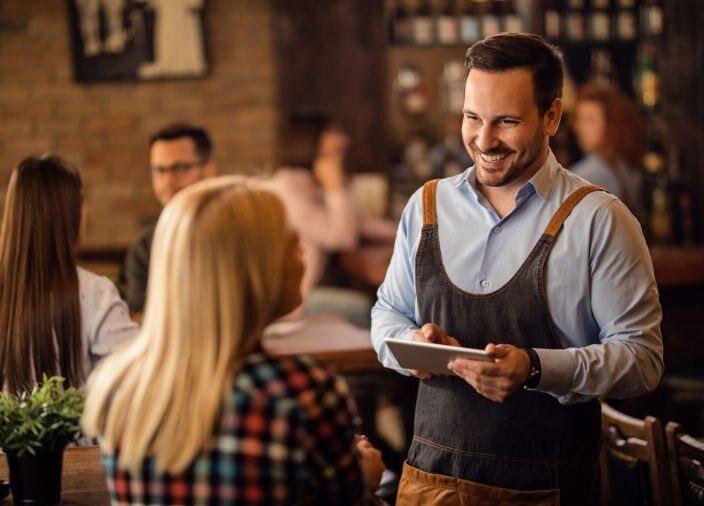 6. Understand where to seat your customers.
Seating guests appropriately can optimise your profits. Reservation platforms can be a great start, but sometimes you know best.
Great servers quickly determine the needs of their guests; a children's birthday party won't always work well beside a couple's romantic meal for instance
By quickly understanding their needs, you'll enhance their experience.
Solo diners and drinkers should always be offered seats at the bar. This is a great opportunity for the bartender to make a new regular out of a first-time visitor, or just to make a special effort to give great service to someone travelling solo
7. Balance table turnovers without rushing guests.
As much as we'd love customers to stay as long as possible, it's financially crucial to turn tables. This runs the risk of upsetting customers who've planned to settle in for the night. Clear communication is key in balancing guest expectations with a venue's financial realities.
This can start before they arrive with the time of when you need the table back communicate then. Avoid terms like, "Out by 8 pm". Replace with, "We have another party joining us at 8pm", which is a more subtle way of communicating the same information. 
Equally if a guest turns up 45mins late they'll most likely understand they'll have a shorter seating time, especially if you gently mention this when they arrive. This is much better than landing the bill announced. 
In simple terms - talk to your guests!
8. Technology is your friend.
The hospitality industry is historically slow at adopting new technology. But technology can add real value to venues and customers across a number of areas:
Team Management:

Scheduling apps like

UKG

and

Deputy

can really make rosters, timesheets and shift management a lot simpler, compiling time, availability and highlighting issues automatically for bar managers.

Digital Menus: One leap that many venues have made is to incorporate a digital menu into their regular offering. With paper menus having issues over environmental and hygiene concerns, QR codes have become more common.
Online Ordering: Digital ordering platforms, including "Me&u", have provided new ways of delivering menus and drinks to guests. These platforms are very effective for large volume venues. They also have a well-documented ability to increase spend per head.

Upselling/Cross-selling:

For business owners and managers, consider borrowing from popular e-commerce and marketing tactics, with decoy pricing (to help influence customer choice) and

upselling/cross-selling

(to increase spend per head and deliver a better guest experience) at the forefront of this. More money for businesses, better guest experience, faster table service. It's a win for everyone!

Customer Relationship Management:

Technology equally can be used to build customer relationships – as Adam highlights, there's no better feeling for a customer when than when they feel they are 'known' by a venue or bartender'.

Tracking customer preferences:

Using software like

OpenTable

,

RESY

, and

SevenRooms

, allows you to automatically record your guest's preferences. So, the next time they book you can offer their preferred drink without being prompted.
9. Provide your team with ongoing, structured training.
Providing great service doesn't come naturally to everyone, but ongoing training can really support staff to be more confident and professional.
This will help create a better service for customers, making their experiences more memorable and ultimately driving repeat visits and higher revenue.
There's no venue that can truly be everything to everyone, so having a well-versed team makes all guests feel comfortable, even if you can't meet every request.
Here are some top tips for driving a high-performance culture:
No 'Off' days:

Nailing

consistency

is the difference between a good and great venue.

Treat guests like royalty:

You never know who you're serving - excellent service can lead to job opportunities, extra tips, and personal satisfaction.

Put service front of mind:

All staff have days or particular tables where they don't quite nail service to the best of their ability, but constantly thinking about the level of service required and self-evaluating your performance is half the battle.
10. Provide unforgettable customer service to every guest.
Poet Maya Angelou once said, 'I've learned that people will forget what you said, people will forget what you did, but people will never forget how you made them feel.'
Customer service can be the secret weapon in the success of any venue or bar professional. The extra mile you go to make someone feel appreciated, listened to, or add value to their experience can make all the difference.
That one customer could recommend you to 100 friends, could be your next investor, could be a respected influencer or your best customer for the next 10 years. Be genuine and make everyone feel special.
Key Takeaways
Guests can replicate drinks at home, but they cannot replicate the unique guest experience your bar or venue can provide.

Every guest is different, so read body language and social cues to tailor your approach.

Use technology to make your operations smoother, giving you more time and the tools to create unforgettable moments for your guests.

Provide staff with regular, structured training so they're equipped to handle all kinds of guest situations.

Encourage your staff to bring their personality to their work – genuine human connection is the key to an outstanding guest experience.