Introducing food in your venue
Introducing food in your bar can boost sales and create better experiences. Learn how to start offering food in your venue, including how to create a standout food menu.
Estimated Read time: 6 minutes
A Focus on Food
Introducing food-led occasions in your venue should be an exciting and profitable benefit to most businesses. Regardless of what type of venue you work in, food availability can supply a multitude of benefits and help elevate your guests' experiences.
This article will focus on how staff, menus (physical and digital), along with other supporting POS, can drive food sales in your venue. We will also provide some easy-to-follow suggestions towards what types of food offerings may work best with your beverage program.
Firstly, all venues should always adhere to their local Health and Safety regulations for the safe and proper handling, preparation, and serving of all food items. Depending on the location this may require certificates or other licenses. Please ensure you do your due diligence.
Why sell food in your venue?
Retaining guests in your venue is one of the most important cornerstones of any business. The more reasons you give people to stay, the more chance you have of making an incremental increase in your profits. By offering food, you attract more guests and keep them at your venue for longer periods of time. 
Food availability will help you attract a broader range of customers, including those who may not typically visit a bar. This will help you expand your customer base and opens you up to new demographics. As you supply more selling opportunities in your venue, your reputation grows and suddenly you are not just known for being a bar. 
Promoting Your Food
Promoting your food and creating awareness of food menus are usually driven through three main ways in your venue: Physical, Digital, and Staff.
PHYSICAL MENUS & POS ITEMS
"Menu engineering can boost profits by 10-15%"
Consultant: Gregg Rapp, menu engineering
Having your available food items listed on physical menus is the most familiar way your guests will get to know about what is available. This format usually highlights the main ingredients or 'talking points' of each menu item. For example, the food or snack menu could be included in your drink list or featured on table talkers. Alternatively, a menu clip-on could be used to promote your house speciality. E.g. The 'Toasted Sandwich' selection. Everything from bar snacks, sharing dishes, food and drink pairings and signature dishes are found in this format.
Your physical menus can also have text that encourages your guests towards choosing a food item. An Aperitif drinks menu, for example, may suggest ordering the trio of dips with the Ketel One Citroen Spritz, a suggestion that your guests may not have chosen before but, when highlighted alongside the right items, it appears as the perfect selection.
Digital Menus
"Customers will spend 5-10% more per order on Me&u than traditional menus". Me&U - leading Digital menu service
Digital platforms are now popular with both venues and guests. They aim to replicate the usability of a physical menu while supplying extra opportunities that a paper version cannot. The digital format allows the user to visibly see the available dishes, through high-quality images or short videos. When your guests can see the presentation of your menu items beforehand, it helps drive sales as they have increased confidence in what they're ordering.
Use your digital menu's user-friendly interface to offer add-ons when someone orders a drink. You should be able to curate pairings of plates or snacks with some of your most popular drinks, the intention being to tempt your guest into ordering more items.
A guest ordering a Ron Zacapa Old Fashioned sees a pop-up suggesting chocolate-coated almonds and raisins to go with the drink.
Digital menus are also easily accessible through your social media pages. By highlighting signature food items to your guests via your social media pages, you can grab the attention of existing and even new guests.
The visual excitement of how good your food looks next to a Tanqueray Negroni, is the perfect use of a digital menu format. With all that said, digital menus are a tool to be used, but not something to be dependent on if we want to create great hospitality experiences. Guests may enjoy the convenience of ordering and paying through their phones, but it's the hospitality, through interaction and recommendations, from your team, that will excite people to want to visit your venue again.
"34% of consumers say they now prefer to book, order and pay using tech—but two-thirds (66%) say they still prefer to interact with staff." CGA On-premise user study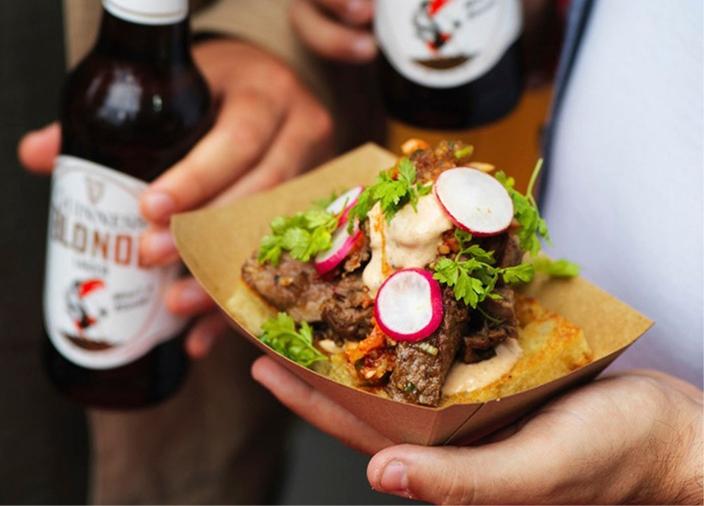 Staff
"9/10 times guests will accept a recommendation from bar staff/waiters" 
Whether they are helping to drive sales through easy-to-recommend 'snacks and nibbles' or are talking through your venue's chef-curated plates, your staff will almost always be the most valuable way of understanding what is on the menu.  Well-trained staff will talk about flavour, by using key verbal descriptors and body language to emphasise why a certain dish should be ordered. 
Whether your menu is familiar and simple or innovative and complex, your staff can bring the words on a menu to life, elevating the guest experience. Do you have a pizza special on for today only and the chef wants to highlight the new season truffles? Equip the staff with this food knowledge and have them recommend a drink pairing while they are talking to their guests.
Developing Your Food Menu
The best approach for introducing food to your venue will always be working with what you have. If you have a kitchen, your chef will be the best person to help you develop food menus that complement the drinks that you are serving.  For example, if you use Aquafaba (chickpea brine) as part of your Sours cocktail recipe, let the chef know that you have a surplus of chickpeas, you could include hummus with some grilled flatbreads to be featured on a bar menu or they could be used as a base of a pasta sauce on the main menu. 
If your venue has an approved and designated food preparation area but no kitchen, this means your food offering will be limited. You may only have the space for shelving, a fridge or freezer and a small prep area. This means you will need to get a little creative in what food items you offer, keeping them manageable for your staff to produce, but exciting enough for your guests to order.  
By prepping and portioning your ingredients before service, you can consider using a single piece of equipment, like a toasted sandwich maker, to make some irresistible sandwiches such as: grilled cheese, pesto, caramelized onion, and eggplant. Your version of the classic BLT or Rueben. 
If you have the bench space, why not consider an air fryer? This type of easy-to-use appliance can be used to produce your venue's new signature food items, such as: loaded potato skins or crispy balsamic brussels sprouts.
If you're introducing food for the first time, it is best to keep it simple and develop your offering as you understand what works best.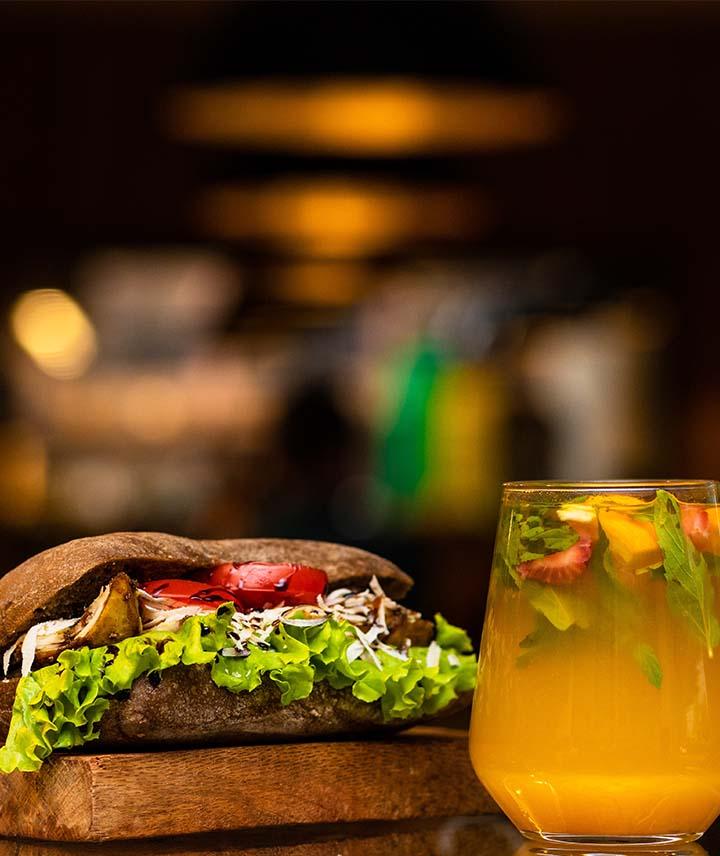 Bar snacks and nibbles are easy to include, and you can look beyond packets of crisps and nuts.
Why not find local artisanal providers of olives, nuts, and dried snacks that you can decant into bowls or glasses? This removes added packaging and has the potential to reduce the carbon footprint of your menu if you find local suppliers. A curated offering also adds a more premium feel than off-the-shelf packaged snacks.
Food Pairings are a fantastic way to combine the world of food and drinks and lend themselves to both simple and complex food options. You could offer a whisky flight; each whisky can be paired with honey and cheese or a Coconut Espresso Martini with a Banoffee pie.
Signature foods are something you become known for, it could be a cult favourite like a blue cheese toasted sandwich, or a more refined plate created by your chef. If you can serve something so delicious that people talk about it, you are on the right track!
Key Takeaways
Ensure you utilise a physical or a digital menu for your venue, as both have many benefits.

Training your staff to be confident in recommending food will always be worth the investment and lead to better guest experiences.

Keep it simple. High-quality food offerings that are simple to prepare for guests will leave plenty of time for making drinks and engaging with your guests.