Crafting premium festive cocktails
Ready to elevate festivities with premium cocktails? Hong Kong Bartender Jo Lo shares a guide to introducing premium festive serves to your cocktail menu.
Author: Jo Lo
Estimated reading time: 6 minutes
Dive into a world of sophistication with Jo Lo, Bartender and Supervisor at The Envoy and Room 309 in Hong Kong, as she reveals the secrets behind crafting premium festive cocktails. In this article, she explains why they're a must for your cocktail menu, providing a guide to creating them in six simple steps, along with three tantalising festive cocktail recipes to try yourself.
WHAT IS A PREMIUM COCKTAIL?
A premium cocktail is a drink that uses unique flavours and high-quality ingredients, such as premium spirits, and is presented in an aesthetically pleasing yet simple way. It'll often come with a higher price tag than other cocktails on the menu and is usually considered a specialty drink.
WHY OFFER PREMIUM FESTIVE COCKTAILS?
CGA's Mixed Drinks Report found that guests are continuing to prioritise quality and are willing to spend extra to get it, with 56% of consumers saying they are 'very likely' to pay more for a better-quality spirit and mixer when out.
You can offer specialty drinks at a higher price point which will increase your profit margin.
The festive season offers a great opportunity to showcase premium cocktails as guests are more likely to treat themselves during this time of year.
SIX SIMPLE STEPS TO CREATING A PREMIUM FESTIVE COCKTAIL
2. USE FESTIVE FLAVOURS
Ingredients and flavours like ginger, cinnamon, cloves, orange, and chocolate, all inspire that fuzzy festive feeling. For example, you might create a spiced rum cocktail with cinnamon and nutmeg, or a cranberry and orange gin cocktail.
At Envoy we have a Barrel aged Mai Tai cocktail, with delicious festive flavours such as slow-cooked ginger and dry orange curacao. When guests hear Mai Tai, they might think of the beach, but with this flavour profile we've conserved the essence of a summer getaway in a barrel for year-round enjoyment.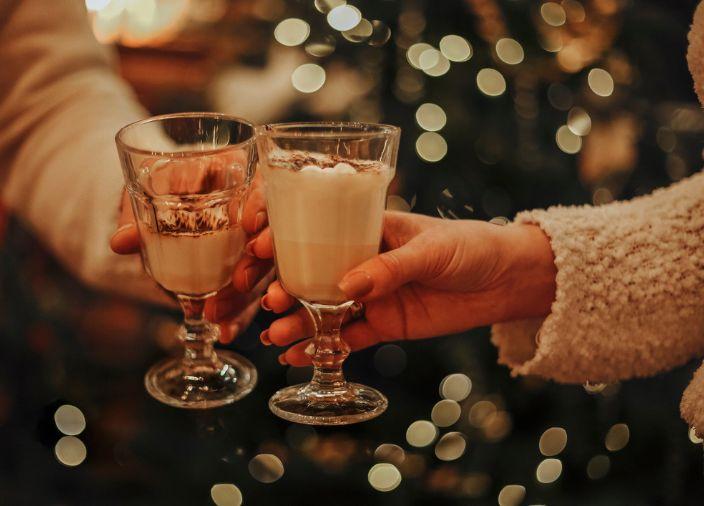 3. SELECT HIGH-QUALITY CORDIALS AND MIXERS
Quality cordials and mixers that complement your chosen spirits and festive flavour profile are a must. For example, if you're making a whisky-based cocktail, fruity and spice-based cordials including apple and/or cinnamon, and a mixer like soda water or ginger beer are great for giving depth of flavour and getting guests into the holiday spirit.
The Johnnie Walker Flavour Wheel is a fantastic tool to use when deciding which whisky flavour you want to enhance or complement in your serve.
4. USE CLASSY AND IMPACTFUL GLASSWARE
Using classy glassware is an excellent way to heighten the overall cocktail experience. Elegant glassware can enhance the perceived quality of a cocktail by making it look more appealing, enhancing the aroma, maintaining the temperature, and improving the taste.
Whilst aesthetics are key, of course, practicality is just as important. For example, if you're using a fizzy mixer and your drink needs lots of ice, you want to opt for a tall, narrow glass like a highball, to retain the carbonation and slow down the dilution of the ice.
Top tip: Make sure your glassware complements the occasion to successfully enhance the overall drinking experience.
5. CHOOSE YOUR COCKTAIL GARNISH WISELY
Garnishes can make all of the difference to how premium your cocktail looks. Whether it's a dehydrated orange wheel, or a sprinkling of icing sugar, garnishes can elevate a cocktail's aesthetic and add to the theatre of your serve. Remember, the more impressed your guests are by the cocktail's appearance, the more likely they'll post it on social media – that's free marketing for your venue!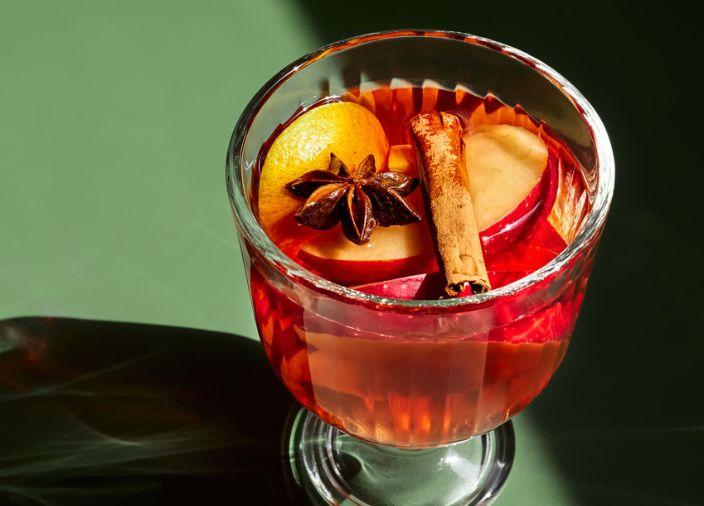 6. USE THE RIGHT ICE
Ensure that you have enough ice on hand to chill and dilute your cocktail. Depending on the cocktail, you might want to use different types of ice, such as crushed ice or large-format ice cubes. For example, using large-format ice cubes can elevate a cocktail's aesthetic by following a minimalistic and modern look, while also creating less dilution.
With these six simple steps, you can create delicious and premium festive cocktails that are sure to impress your guests.
Ready to experiment? Here are three high-quality yet simple festive cocktail recipes to get you started.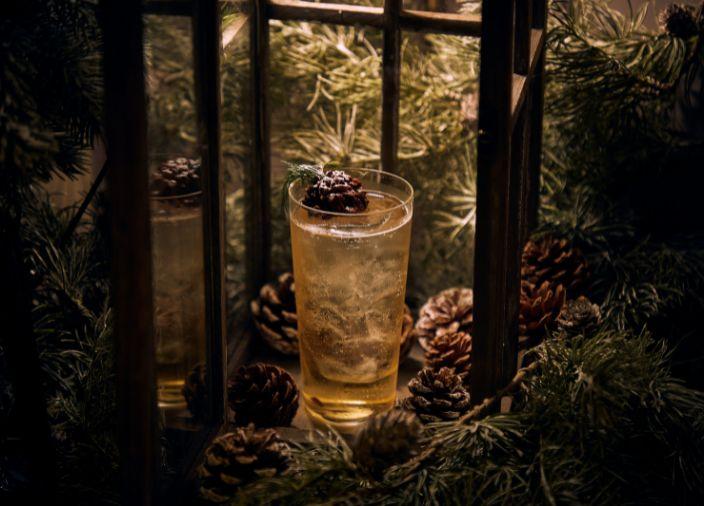 THE TWELVE DAYS OF YULE
The Twelve Days of Yule is a light cocktail, perfect to kick off the early evening. With apple and dill cordial, paired with Don Julio Blanco and finished with an acorn-shaped cacao nibs candy garnish.
WINTER HIDEOUT
Winter Hideout is a simple and warm cocktail that is inspired by the popular Irish Coffee.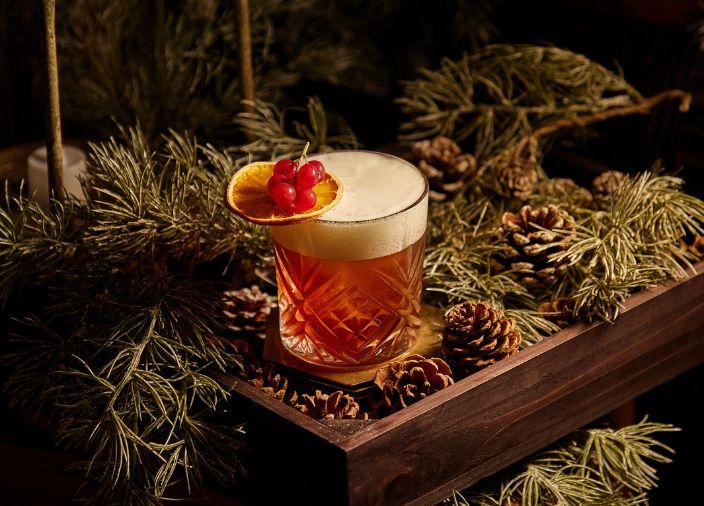 RED NOSED SOUR
The perfect Gin cocktail for a seasonal menu, using lemon juice, bitters and egg white.
HOW TO PROMOTE PREMIUM FESTIVE COCKTAILS
When it comes to including premium festive serves in your cocktail menu and upselling them to guests during the festive period, there are a few strategies that can be effective:
Highlight the quality of the ingredients
Make sure that your menu clearly communicates the premium nature of the spirits and ingredients used in your cocktails. This can include creating a dedicated section in your menu for seasonal signature cocktails, showcasing premium spirits and emphasizing the use of high-quality mixers, cordials, and garnishes. Or, even creating a separate menu!
Use suggestive selling techniques
Suggest a premium cocktail as an aperitif or digestif or recommend if it pairs well with a particular dish on the menu. This upselling technique can be especially effective during celebratory times of the year when guests may be more open to trying new things and want to enjoy a fuller experience.
Create a festive name
When it comes to choosing festive cocktail names, it's important to strike a balance between being fun and festive without being too tacky or cheesy. You want the name to reflect the holiday season or occasion, but you also want it to sound elegant and sophisticated. The goal is to create a name that captures the spirit of the occasion and entices customers to try the cocktail. By striking the right balance between festive and elegant, you can create a memorable and enjoyable experience for your guests, for example, "Fireside Old-Fashioned" or "Mistletoe Mule".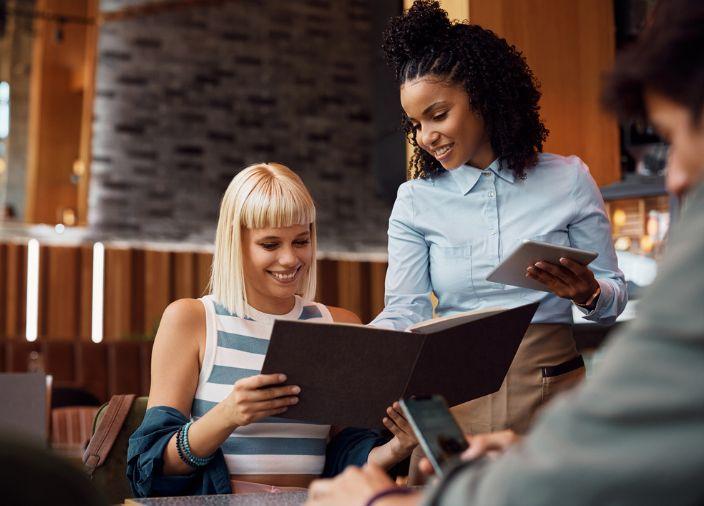 Key takeaways
Offering premium cocktails can give your bar an edge of quality and attract customers who are willing to pay more for a memorable experience.
A premium cocktail is a cocktail that uses high-quality ingredients, unique flavour combinations, and is presented in an aesthetically pleasing yet simple way. Minimalistic presentation can give cocktails a modern, elegant and high-end look.
When creating premium cocktails, choose high-quality spirits and ingredients.
Use flavours and ingredients that are associated with the holiday season such as ginger, cinnamon, cloves, nutmeg, orange, cranberry and chocolate.
The right glassware can enhance the perceived quality of a cocktail by making it look more appealing, enhancing the aroma, maintaining the temperature, and improving the taste. It can also add to the theatre of the serve.
Sign up and become a member of Diageo Bar Academy for free today, to access exclusive masterclasses, e-learning courses and downloadables to supercharge your career.