Estimated reading time: 5 minutes
However you spice, spice on
Welcome to the delicious world of Captain Morgan, where the possibilities for insanely tasty drinks to suit all seasons are endless. Captain Morgan drinks mix even better with food. If there's a better spirit drink for getting your friends around and ordering a pizza, we're yet to find it. Make it your own. Fill up the ice tray. Then, make it up as you go along. There's a delicious world of possibilities out there - just waiting to be enjoyed.
THERE'S GOLD, THEN THERE'S ORIGINAL SPICED GOLD
The original. The icon. It's Captain Morgan Original Spiced Gold, flavoured with vanilla (and other natural) flavours and spice for an irresistibly sweet yet subtly spiced flavour. Versatility is its speciality. Make it hot, make it cold, make it sweet, make it fruity or even make it creamy. Delicious possibilities are there for the making.
Mouth-watering mixes
Get a little creative with your cocktails – Captain's orders!
But wait, there's more deliciousness to discover…
Learn more about Captain Morgan's range of award-winning rums.
Spice On Favourites
It's impossible to choose our favourite Captain recipes, but we had a go anyway.
What's Your Recommendation?
There's a Captain Morgan cocktail to suit every tastebud! Check out our 'Wheel of Recommendations' to discover what serves to recommend to your customers and when. Or just wing it – if it tastes good to you, it sounds good to us!
Show Off Your Skills
Show us your skills by making your own experimental Captain Morgan serves. Choose any of our variants – Original Spiced Gold, Captain Morgan Dark Rum, Captain Morgan White Rum or Captain Morgan Tiki and mix it up as you go along.
Don't forget to share your tasty creations on Instagram and tag us @DiageoBarAc. We can't wait to see what you come up with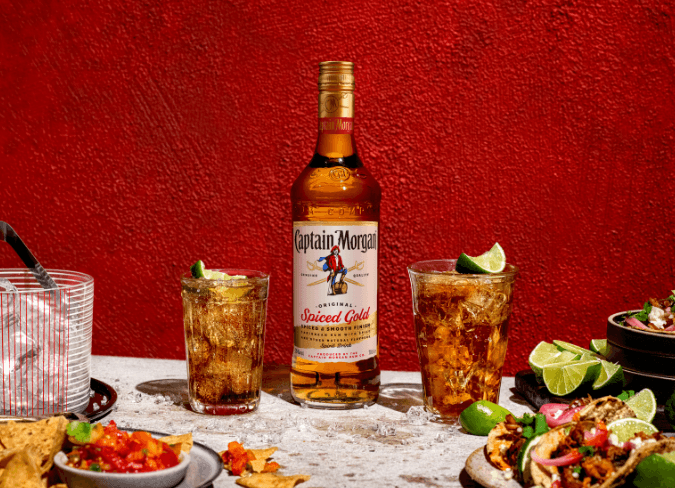 Do you know Captain Morgan forwards and backwards?
Put your knowledge to the test in our quiz.
START QUIZ