Unique Bar Concepts to Be Inspired By
Unlock secrets to creating an unforgettable bar experience, with expert tips to help your bar's ambience, service and overall experience stand out.
Authors: Jake Erder from EPIC Shanghai (previously Dead & Dive, Hong Kong) and Paul Lougrat from A Bar with Shapes for a Name
Estimated reading time: 4 minutes
Let Your Bar Stand Out
Whether it's bar design, drink experiences or service, there are great ways you can make your venue immersive and, in turn, attract more guests. Jake Erder from EPIC, Shanghai (previously Bar Manager at Dead & Dive Bar, Hong Kong) and Paul Lougrat from A Bar with Shapes for a Name share their experience of introducing immersive experiences in bars.
Creating Immersive Drink Experiences in your Bar
Jake Erder | Dead & Dive
The reality for every hospitality venue is that there will be other outlets vying for customer attention, so it's useful to be aware of guest behaviour and what drink experiences competitors are offering when introducing immersive experiences. For instance, today's grab and go takeaway culture demands new ways of thinking, particularly in places that have a thriving bar culture.
At Dead & Dive we quickly identified the emerging popularity of convenience stores offering grab and go drinks for customers. In response, we restructured the business to become a high-volume bar with the option for easy grab and go drinks. Being located in one of the city's key entertainment districts, Lan Kwai Fong, we were able to capitalise on that and target an audience who would have previously purchased grab and go drinks from the nearest convenience store.
Introducing Vending Machines in Your Bar
Our venue installed two vending machines offering canned and bottled drinks including beers,classic cocktails, and hard seltzers. The vending machines drew a lot of interest among guests and were strategically positioned to be seen from the street, helping to draw in passers-by too.,The vending machines drew a lot of interest among guests and were strategically positioned to be seen from the street, helping to draw in passers-by too.
As well as improving the flow of service from the bar, the vending machines act as an extra fridge and help with easy restocking in the main bar – they also allow the bar to generate extra revenue after last call while staff clean up and lingering guests purchase their final drinks. The machines are easy to operate with very clear instructions.
Watch a vending machine in operation at Dead& Dive Bar in the video below.
A vending machine won't be right for every bar, and to determine if it's right for your venue, you need to ask yourself:
Does this fit in with the concept of my bar?
Do we operate in a culture where batched and ready-to-drink cocktails are in demand? If not, what are the new drink experiences and trends in your area and how can you tap into those in your bar?
Is there an immersive experience that will benefit and improve your flow of service?
Create A Concept for Your Bar: Something You Believe In
Paul Lougrat | A Bar with Shapes for a Name
Having worked in several bars where menus were central to the venue experience, it was after an evening spent at Café Tacobar in Mexico City that Paul Lougrat's perceptions of what made for a compelling bar concept completely changed. He wanted to have a bar that was as simple as its name – a simplicity that carried through every element of the bar - in the service, drinks, and atmosphere.  
When opening A Bar with Shapes for a Name, alongside his partner, Remy Savage, the duo drew on key elements to create a new and immersive venue in the UK.  
Through the walls, the smell, furniture, and layout they sought to heighten guests' senses and offer an all-encompassing experience.
Holistic Bar Design & Service
We based the bars' concept on the school of Bauhaus – a key influencer of industrial design in the early 20th century and we spent months working with an architectural designer to create the most functional and minimalist space we could.
For example, the tables can fold up and attach to the walls to create standing or dancing room, and the bar extends to enable more exchange between the bar staff and customers.
The venue is small, so making everything multi-functional gives greater control over the space and guests' experience. The team even decided against a back bar so that guests are not distracted by products and can fully immerse themselves in the venue's atmosphere.
The design of your space is very important. It's the most immediate way to present your message to your customer so take time to review this and draw on professional help if needed.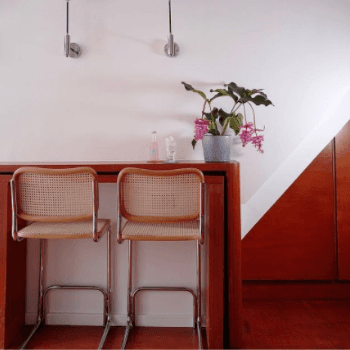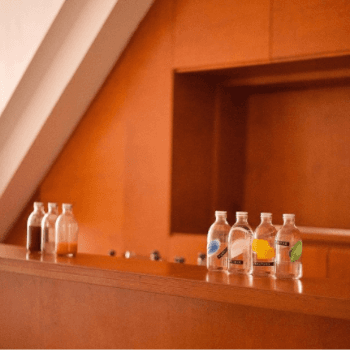 Cocktail bar seating area
In keeping with the Bauhaus mindset, our drinks offering is minimal and functional, but every step of the drinks process is studied to understand what brings the best final product to the table - from the way it's created, to the style and service.  
Having a precise system to receive guests, present the menu, serve water, and take their order allows the team to work flawlessly and allow guests to relax.
In order to offer guests the best experience possible, we include philosophical questions and emotional intelligence theory into staff training to help everyone open their minds to the impact they have on the guest's experience. This includes discussion on how to empathise, how to express yourself, how to evaluate yourself and how to become more self-aware which creates a great platform for exchange and development within the team.
 Train your team for a flawless technique and ensure they are delivering a service and conducting themselves in line with the atmosphere you want for your venue. 
Owning the Concept for your Venue
If you're considering using a concept to differentiate your offering from the competition, be confident that you fully understand it and be prepared to run it through every aspect of your venue. Guest experience can be influenced by many elements; interior design, service, your offer, music, materials used for the coasters, staff uniform, but it must feel authentic and have the potential to impact the senses.
Key Takeaways
Be aware of changing guest behaviour and the competitive landscape before implementing new ways of working in your bar.

If implementing an interactive experience, ensure it's adding to your flow of service and will improve the overall bar experience.

When implementing a concept in your venue ensure that you run it across all aspects, including bar design and service.

Invest in team training to ensure they can deliver on the experience you aim to offer.

When introducing an immersive experience, ensure you're fully onboard with it before introducing it to the wider staff and / or customers.
Join Our Community
Join our global community on Facebook and Instagram, and let's interact! Become a member of Diageo Bar Academy for free today and get loads of extras, including exclusive access to our free menus, recipe cards, courses, and more!