GSA World Class Gewinner:innen 2022
World Class
We asked our 2022 winners from Germany, Austria and Switzerland a few questions about their experiences with WORLD CLASS and don't want to deprive you of their answers. They may have a few tips for you!
---
Michael Scheffler
WORLD CLASS Bartender of the Year 2022: Switzerland
What does WORLD CLASS mean to you?
WORLD CLASS is a platform that offers many opportunities to learn, grow and connect while you compete with likeminded people throughout the industry.
What has WORLD CLASS changed for you?
Personally, WORLD CLASS changed the size of my bubble as a bartender.
With this years Global Finals in Sydney I had the opportunity to see 50 of the best bartenders in the world, approach the same tasks, and I was impressed how we addressed them differently, which showed me that my way is just one way.
In addition to that I got to know many people and there are so many places and characters I want to get to know in future projects. All made possible by this WORLD CLASS experience. So challenging in my humble opinion.
Do you have recommendations for the applicants?
Think about why you do the things you do. Which drink, glass, garnish, techniques etc. and why. Make sure it is a coherent story you create with that.
Preparation is key and WORLD CLASS takes a lot of time, be aware of that.
Connect with people and show yourself as a person.
Have fun and learn from your mistakes!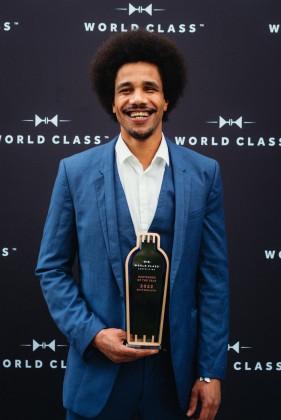 OLIVER SCHMIDT
WORLD CLASS Bartender of the Year 2022: Germany
What does WORLD CLASS mean to you?
To me, WORLD CLASS means perfecting the craft and doing what you love. It's all about the spirit of supporting each other. Through the competition, I met a lot of great people. You get to meet so many personalities, and that's the main reason why you should consider entering the WORLD CLASS competition.
What has WORLD CLASS changed for you?
Before WORLD CLASS, no one knew who I was. I didn't start bartending until November 2021, so naturally my network was small. The WORLD CLASS is a big boost to your perception in the scene, you get a chance to do guest shifts, people ask for help a lot more and that expands your network even more.I started my bartending career in Regensburg, a small town in Bavaria. Through the WORLD CLASS competition, I got the opportunity to move to Cologne and work at the Grid Bar. And just recently I was promoted to the bar manager. So, I benefited a lot from that.Regarding the changes in my skills, I think we're always trying to perfect our craft, and seeing a lot of different approaches to bartending and practicing hard can take you one step further. My technical skills got sharper, and I became more efficient behind the bar. I also got better at preparing for the shift. I have a great team around me, and I learn something new every day. Presenting drinks in front of judges also teaches you how to speak in front of a crowd, which has helped me a ton.And honestly, the Global Final was a once-in-a-lifetime experience. Meeting all the lovely people you only know from the screen and presenting your work of three months in front of legends of the industry. Plus, a concert at the Opera House and a helicopter ride over Sydney. But by far the best part of this experience were all the people who made it such a great adventure.
What advice would you give other applicants?
Take a risk and even try crazy ideas that you have. Just be yourself, practice and most importantly have fun. Being WORLD CLASS Bartender of the Year is also a big responsibility, but I wouldn't have it any other way. I would encourage everyone to join WORLD CLASS and become part of this great family.
DOMINIK OSWALD
WORLD CLASS Bartender of the Year 2022: Austria
What does WORLD CLASS mean to you?
WORLD CLASS means to me, working on high standards and levels. Creating the best drinks, working with the best brands and spirits, competing with the best bartenders.
When I was a young bartender, it has always been a dream to participate in the Global Finals of the WORLD CLASS Competition. I always took inspiration of representing my home country in the Global Finals, what pushed me to improve myself behind the bar and never stop learning. In my personal case that means not giving up, even though you need to attempt three times.
Besides being in the world's biggest bartending competition, WORLD CLASS to me, means FAMILY. You are part of a community that is growing every year. This community around the world is supporting each other and I got to learn a lot from all the other competitors in Sydney. I took home not only new ideas and inspirations, but also new friends and contacts from all around the world. WORLD CLASS means competing against the very best bartenders, but never forget to enjoy the time you have there. Winning the WORLD CLASS does not only mean to make it to the first place. Winning the WORLD CLASS also means to have fun, meet new friends and learn from each other. It is an adventure I will never forget!
What has WORLD CLASS changed for you?
WORLD CLASS has changed a lot for me. Suddenly everyone is interested in what I am doing and wants to hear my story, what pushes me a lot. That got me a lot out of my comfort zone, since I am not really used to be in the spotlight. It has been a lot of attention, not just from friends, but also from people I did not even know before. Regarding your media presence, you receive a lot of recognition and somehow find yourself hearing your name in the radio or reading it in an article. What you would have never imagined a year ago, is now somehow pretty cool. I now had to learn how to deal and work with the media, which I never did before.
Also, social media was a big theme for me. Personally, I have never been the guy who posted a lot on platforms, but now I had to promote my drinks, projects and myself. Therefore, I had to learn how social media works.
Due to the WORLD CLASS I get the chance to make a lot of new experiences, flying to Australia and working on the Bar Convent Berlin for DIAGEO. The amount of guest shifts, travels and appointments has grown a lot over the past couple of months, so I would say the WORLD CLASS has opened a lot of doors for me.
Of course, it is a lot of stress, but I learned how to manage it, because for me, it is worth it. I am learning a lot from this experience and the people working for the WORLD CLASS and my colleagues are supporting me very much.
The WORLD CLASS has also supported me by building up more self-confidence on stage, improving my presentations and dealing with pressure.
I'm sure a lot of other things have changed as well, but it will take some time to realize, what happened the last months.
However, for me it was always very important to stay true to myself.
What advice would you give other applicants?
WORLD CLASS is not only about winning, it is also about the people, the community, learning, connecting and improving yourself.
It is okay not to win, you are competing against the best bartenders in your country or even globally.
- Try to enjoy it and have fun!
- Take every helping hand that is offered to you, you will need it!
- Be prepared in the best way for the National Final and the Global Final, it is a once in a lifetime opportunity for you to show the world who you are!
- Start at least two months before the finals with your preparations.
- Read the judging sheet!
- Judges are just like you and me, so don't be scared!
- Be yourself!
- Be nice to your BA's, it is always good to have them on speed dial!
If you win the DIAGEO WORLD CLASS Competition, that does not make you the best bartender in your country. You should stay calm and enjoy your win, but do not think that you cannot continue with learning and improving.
Take your chance, it is a life changing opportunity!