How to Craft the Ultimate Seasonal Cocktail Menu for Your Bar
Seasonal cocktail lists bring more than just fresh flavors to the bar — they also capture the attention of prospective guests and excite your regulars, keeping the revenue flowing for your bar. Here are some tips on how to create the ultimate seasonal cocktail menu for your bar, and the factors to consider before diving into research and development.
Why Seasonality Matters
Drinking with the seasons has been a trend in cocktail bars and restaurants for decades, but seasonal serves bring more to the table (or bar top) than just fresh, trendy ingredients — they're also good for business. With 59% of consumers being more likely to purchase a menu item if it's described as seasonal, not capitalizing on seasonality can be at the detriment of any bar or restaurant's bottom line.
In terms of growing your bar's brand, changing your drink menu with the seasons offers periodic opportunities for bringing guests into your establishment. Your regulars get a chance to renew their love for your bar by tasting the limited-time drinks and bites, and the buzz generated from the menu could inspire new guests to visit — after which, they'll hopefully be converted into regulars!
The Buzz
This buzz is fueled by both word of mouth from your business's local community, and by leveraging your bar's social media handles to bring the seasonal offerings to life. Using platforms such as Instagram—a platform that rewards timely messaging with high-quality images—is a great way to engage and reach both regulars and prospective customers. Give your followers (i.e., potential guests) a behind-the-scenes look via Instagram stories and posts into how you developed the new menu, building anticipation for the launch of the seasonal offerings — guests love to feel like a part of the process! You can also consider running a contest, or giveaway to increase your bar's social media engagement. There are endless options to promote your bar by integrating seasonal menus into your bar concept, but these are just a couple of examples.
In addition to the potential of gaining more customers for your bar, and therefore increasing the bar's revenue, there are also savings to be had by developing seasonal cocktail menus that use abundant, in-season ingredients. In the fall, squash, quince, mushrooms, figs, apples, carrots, and beetroots are just a few ingredients that can be bought at an affordable price due to their abundance. While creating bespoke cocktail ingredients with these seasonal foods may seem labor-intensive, the trade-off of having lower food costs and keeping your bar on-trend will always be worthwhile.
Benefits of Seasonal Cocktail Menus
Now that you understand a few of the benefits that a seasonal cocktail menu brings to your bar, it's time to decide how far you want to go with seasonality as it's a spectrum.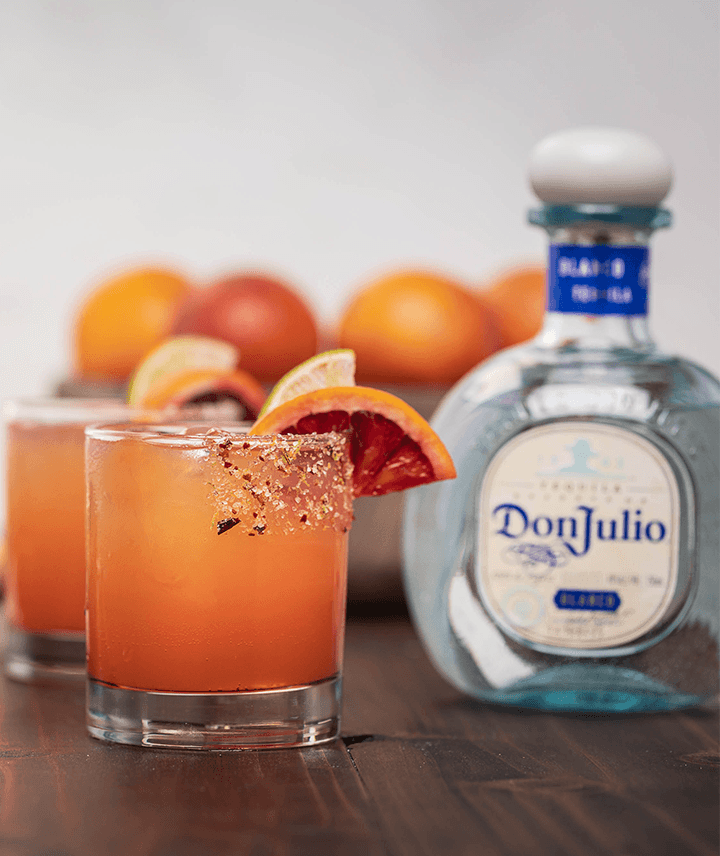 Crafting a Seasonal Menu That Fits Your Bar
Seasonality is relative. A seasonal cocktail menu from the mid-90s or early 00s looks much different than the ones you'll find at most cutting-edge cocktail bars today. At the beginning of the contemporary cocktail renaissance (the late 80s, 90s and 00s), bartenders often used the ingredients that were at their disposal; meaning seasonal drinks relied heavily on the bottles on the back bar, and various simple syrup recipes (cinnamon syrup, ginger-honey syrup, raspberry syrup, etc.)
Culinary Approach
Today, the world's best cocktail bars take a culinary approach to creating seasonal ingredients for recipes, making layered infusions, ferments (lacto-ferments, natural ferments, kombuchas, fruit wines, etc.), pickles, acidified cordials, and other refined cocktail components that were rarely found behind the bar in eras prior. What was considered hyper-seasonal during those decades (cold-weather drinks, such as toddies and Irish coffees; or hot-weather drinks, such as simple spritzes and Collins'), is now considered minimally seasonal (they are fitting for the weather, but don't require any custom ingredients being crafted). Moderately seasonal cocktails can include drinks that call for a simple seasonal ingredient to be added, such as a syrup or infusion (a spiced syrup for a toddy or Old Fashioned), but don't require significant preparation or labor. Hyper-seasonal serves require a bit more thought, refinement, time, and labor than they did in the past, and can often include cocktails that have sourced ingredients directly from local farms, like beets infused with Don Julio Blanco for a Margarita riff — a trend that an increasing number of consumers look for when ordering food and drink.
Strike a Fine Balance
Before diving into R&D for your seasonal cocktail menu, though, you'll want to be sure you strike a fine balance on this spectrum of seasonality as every bar, and what they can manage on the day-to-day, is different. Here are a couple of factors to consider that will help guide how seasonal your menu should be:
The ability of the staff. First and foremost, it's important to establish how the seasonal menu will be maintained on a day-to-day basis. If you have a dedicated prep person who's well-versed in the kitchen and can handle the volume of hyper-seasonal ingredients that need to be made for service, then this might be less of a worry for your bar. But, if prep for service is dependent on the bar team itself, it's vital to appoint a couple of bartenders or staff to lead this aspect of preparation for service. Understanding the ability of the bar staff is vital to striking that balance of hyper-seasonal (i.e., prep-heavy) serves with minimally seasonal serves, and so on. If your team is filled with all-star bar professionals, then a list of twelve to eighteen hyper-seasonal cocktails may very well be feasible; but if you have a lot of newbies to the industry, then you may want to dial that number back to somewhere between two and four.
Mapping out the cocktail list. How many cocktails do you wish to feature on your menu? In what style? With which base spirits? What sells and what doesn't at your bar? Which seasonal ingredients do you feel most excited about highlighting? Answering these questions will help your team develop some sort of framework that ensures you're striking a balance of seasonal drinks that guests will enjoy of all styles and flavors, drinks that will sell, and cocktails that your team can easily manage for service.
The longevity of the seasonal ingredients. Not all ingredients share the same peak season, so it's important to consider how long certain foods will be in abundance before deciding to put them on your seasonal cocktail list. All too often, bars get excited about a specific seasonal ingredient only to find that in a few weeks, they're unable to source it at the same volume and price. This can lead to disappointed guests who were excited to try this new serve, only to discover that it wasn't on the menu that day due to a food shortage; also, that cocktail is likely, now, costing you more than it was when you initially planned the menu. Be sure to consider how long the seasonal ingredient will be available for at the price you desire as certain foods might lend themselves better to a special menu (ramps have an extremely short peak season) instead of the main seasonal list.
Seasonality During the Colder Months
Late spring and summer, and even early fall, are the seasons where bright berries, peppers, tomatoes, and other vibrant foods are at their best; and these flavors are highly sought-after by guests, meaning that bars and restaurants will often source these ingredients for seasonal menus. But as the colder months approach, seasonality can get a bit trickier as there are fewer fresh, in-season foods to work with. While root vegetables, squashes, and other local foods that are grown in greenhouses are viable options, a great way to lean into seasonality during the late fall and winter is by preserving foods from warmer seasons through pickling, various preserves, ferments, infusions, and other culinary techniques.
Here are a few thought-starters for ways to make ingredients that are thought of as out-of-season, seasonal during the colder months:
Pepper-infused Don Julio Blanco. The Spicy Margarita has become a standard order for many tequila lovers who enjoy a touch of spice in their drinks. A great way to preserve in-season peppers is by infusing them into some tequila to savor their fiery flavor for the colder months. It's a simple, very forgiving method, and this infusion will keep for many months to come (typically no longer than six)
Pickled cucumbers for bar snacks and seasonal garnishes. Another simple food ingredient that can be used in cocktails, such as a Ketel One or Tanqueray Martini, is pickled cucumbers. The brine can be used in Dirty Martini variations, or as a cheeky Pickleback (pickle brine and Dickel or Bulleit whiskey) for regulars and bar industry friends, and the pickles can be used as bar snacks, or as garnishes. Cucumbers are just one example of food worth pickling, but strawberries, peppers, tomatoes, and other ingredients work brilliantly as well.
Fermented blueberry-basil. On the nerdier end of the bar ingredient spectrum, ferments have established themselves as favored hyper-seasonal ingredients at many of the best bars in the world, so it's a great technique to explore should you have the time and patience (as that's all it really takes). The fermented blueberry basil savors an excellent ingredient pairing from summertime and makes it accessible throughout the rest of the year. It's perfect for stirred drinks, such as a Tanqueray No. TEN Negroni, or Martini, or as an additional layer of sweetness and umami in a sour. There are many fermentation techniques and methods worth researching, but see the full process and recipe for this ingredient in the "Try it Yourself" section below.
Fresh, in-season ingredient examples:
Acidified carrot syrup. For bars or restaurants with a juicer—a great piece of equipment for juice-forward brunch cocktails and no-ABV serves—juicing fresh, in-season carrots and creating syrup with them is a perfect way to use this hearty root vegetable. The addition of citric acid powder elevates the flavor and increases the shelf life.

1-part fresh carrot juice
1- part sugar
1% citric acid powder (to the weight of the final syrup

Method: Combine the juice and sugar in a saucepan over low heat. Once the sugar has dissolved, weigh the container that the syrup will be stored in on a scale, then tare to zero. Add the liquid to the container on the scale to calculate its weight in grams, then add 1% citric acid powder to the weight of the syrup. Store for up to 2-3 weeks

Dehydrated shiitake mushroom-infused Bulleit Bourbon. Guests are always skeptical about mushrooms as a flavor in cocktails, but in an Old Fashioned and certain sours, it brings unique umami and dryness that makes for a memorable serve.

1-liter Bulleit Bourbon
1.75 oz dehydrated shiitake mushrooms (roughly chopped)

Method: Vat in a neutral container and infuse for 4 hours. Strain and store (where legal and compliant store*). Keeps indefinitely.
Final Thoughts: Be Creative, and Think Outside the Box
When it comes to seasonal drink-making, don't be afraid to express your creativity in unique ways and utilize the talented personnel you have around you. If you have a creative and talented chef who loves finding ways to utilize surplus ingredients or off-cuts from the kitchen, then explore ways to integrate those foods into your cocktail list (you also save money!). Maybe the back-of-house team wants to run a special food item to move through some product and there's an opportunity to pair a cocktail with it (Fig Prosciutto and Ricotta Crostini with a Tanqueray Bee's Knees made with fig-infused honey syrup), or the bar team wants to create a seasonal specials menu completely dedicated to food-cocktail pairings — there are no boundaries, so embrace the seasons and balance the art with the science.
Carrot Bee's Knees
Experience the essence of the season with our Carrot Bee's Knees cocktail. Enjoy a twist on a classic that is Infused with the vibrant touch of the season, our acidified carrot syrup and honey create a truly enchanting sip of nature's finest.