Bubble Talk
Looking for your New Year's guide to sparkling wine cocktails? Andrew Meltzer, 2016 World Class US Bartender of the Year, explains how to identify the best way to differentiate the types of wine and serve bubbly drinks like a pro! 
New Year
The New Year is around the corner and I'm excited to welcome 2022 with a fresh sense of optimism and adventure. Of course, there's no better countdown than one spent with great friends and celebratory drinks, so this year we'll set the tone with bubbly cocktails and a champagne toast. While wine menus and store shelves are filled with a dizzying array of champagne, cava, cremant and prosecco, choosing the right one is easy if you follow this short guide to sparkling wines. After a quick review of styles, terminology and food-pairing tips, you'll be serving bubbles like a pro and mixing them into memorable cocktails.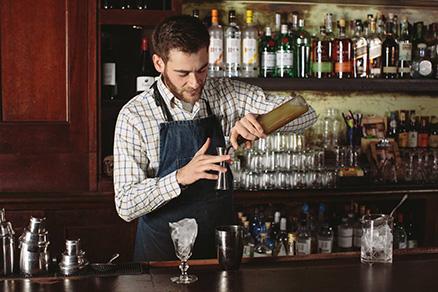 First Step
Your first step is to get comfortable reading a wine label. Although name and label laws vary from place to place, there is much overlap in their format and terminology. Many countries have legal quality standards that apply to wines labeled with a vineyard, village or regional designation. Similar to the rigorous laws governing Parmesan cheese or Iberico ham, these "protected denominations of origin" (PDO's) create laws for varietal usage, ripeness/alcohol minimums, aging requirements, or the maximum density of plantings in a vineyard. Look out for PDOs as a symbol of quality and read about the most important ones here, as they vary from country to country. 
While we often see still wines labeled with a single-vineyard designation, making sparkling wine is an art of blending (similar to cognac or scotch), so the juice from several villages and vintages are blended to create a consistent non-vintage house style. The term cuvée refers to this blend, and in places like Champagne, it is common to blend 30-60 individual wines from 4-6 different vintages. However, a village or regional designation may add a sense of terroir to the best sparkling wines (like a Valdobbiadene Prosecco Superiore di Cartizze). And when there is an exceptional growing season you'll certainly find vintage-dated bottles (such as the 2008 and 2012 vintages in Champagne). 
Next
Next, you'll look for an indication of the wine's sweetness. There is some admittedly confusing terminology for the dryness of sparkling wines, but it's a good idea to familiarize yourself with these terms, which have been adopted by many countries. From driest to sweetest:
Non-Dosage < Brut Nature < Extra Brut < Brut < Extra Dry < Dry < Demi-Sec < Doux
You'll notice that most sparkling wines come in as brut, with about 8 grams/liter of sugar. Due to the wine's naturally high acidity and the dissolved carbon dioxide (perceived as more acidity), a completely dry sparkling wine can seem abrasive, so a small amount of sugar (the dosage) is added at bottling to balance the wine. If nothing on the label mentions dryness you can look at the alcohol percentage for a clue. Generally, a wine with lower alcohol (5-8% abv) will be sweeter, and wine with higher alcohol (10-14% abv) can come in either dry or sweet styles.
The dryness of a wine is crucial to thoughtful pairings. "Brut nature" wines pair well with caviar or soft cheeses, while "brut" bubbles are perfect on their own, in cocktails, or with savory food. "Dry" and "extra dry" wines (which are actually semi-sweet) are nice as an aperitif or welcome drink; the sweetest "demi-sec" or "doux" styles are at home in after-dinner cocktails or paired with desserts. One of my favorite wine pairings is brut champagne with fried chicken--the wine's freshness and acidity easily clean up the salty, fatty chicken. I should also point out the world's most common pairing error: serving wedding cake with a dry sparkling wine, which makes the wine taste strange and the cake cloying; a sweet wine like Moscato d'Asti is more sensible.
Wine production methods and grape varietals play an important role in flavor and texture, too. Here are a few terms to help you navigate the sparkling universe:
Méthode traditionnelle/champenoise/Classique
Using the traditional method, still wine is fermented dry, then bottled with yeast, sugar and nutrients to start a second fermentation. Gases can't escape from the bottle so they are absorbed by the wine and create carbonation. The wine ages in the bottle sur lie, or resting on the lees (dead yeast cells) which gives it a buttery brioche flavor. Finally, the yeast is removed from the bottle ("disgorged") before a dosage of sugar is added for balance. This method is used for champagne, crémant, cava, and more. It is laborious and time-consuming.
Charmat method
A still wine is fermented dry, then mixed with yeast and sugar in a large, pressurized tank for its secondary fermentation. The wine absorbs the gases, yeast is filtered off, a dosage of sugar is usually added, and then the wine is bottled. These wines are crisp, floral, fruity and aromatic. Charmat is the method of choice for making Prosecco and at other large wineries in Italy, Germany and America.
Méthode ancestrale/pétillant-naturel (pet-nat)
A wine is bottled before the primary fermentation finishes, then it completes the fermentation in the bottle and absorbs carbonation naturally. The resulting wine may be cloudy with some funky flavors and moderate to high carbonation; there may be some residual sugar and moderate to low alcohol. This is the oldest style of making sparkling wine and is increasingly popular with trendy natural winemakers.
Spumante
Italian term for a fully sparkling wine.
Frizzante
Italian term for a lightly sparkling wine.
Blanc de Noir
French term for white sparkling wine made only from red grapes.
Champagne
Champagne comes only from its namesake region in northeastern France, and is held to the highest quality standards. The wines are made from Chardonnay, Pinot Noir and/or Pinot Meunier. It's produced in the traditional method with extensive aging sur lie, so flavors range from delicate and refined fruit to ultra-rich and toasty brioche, usually with lots of fine bubbles. Enjoy Champagne on its own, with salty hors d'oeuvres, as your midnight toast, or in premium cocktails like a top-shelf French 75.
Crémant de Bourgogne, Crémant d'Alsace, etc
There are eight regions making Crémant in France, which follow similar rules to Champagne production, but vary from region to region. They will often be made in the traditional method using local grape varieties, often with less time spent aging on the lees. They can be a bit fruitier than Champagne, with moderate carbonation, and offer a great value both as an aperitif or a versatile cocktail ingredient.
Cava
Bringing the most bang for your buck, this traditional method wine mostly comes from the Penedès region of Catalonia, Spain. It's made from Macabeu, Parellada, Xarello, Chardonnay, and other varietals. The wines generally spend less time aging in the cellar, so they deliver freshness and value, although some high-end selections can rival a great Champagne. Cava is my go-to sparkler for making cocktails.
Prosecco
Italy's powerhouse bubbly from the Veneto region is famously affordable and enjoyed all over the world. The primary grape is Glera, but many other local and international grapes can be used in the blend. The wine is made using the Charmat method, so it retains bright aromatics and a crisp flavor. It is less laborious and time-consuming to make, with fewer rules, so Prosecco can be really affordable but varies widely in quality. A premium style is called Valdobbiadene Prosecco Superiore DOCG, which comes from a region with higher quality standards. Prosecco is great as an aperitif and works well in many cocktails, especially in a Spritz or the classic Bellini. Sweet versions can be paired with desserts.
Franciacorta
This is Italy's answer to Champagne. It is made in Lombardy using the méthode traditionnelle, with Chardonnay, Pinot Noir and Pinot Blanc in the blend. Like Champagne, it spends a long time aging on the lees for texture and flavor. It's best served with savory appetizers or on its own and comes in dry and sweet styles.
Moscato d'Asti
A famously sweet, frizzante (lightly sparkling) wine with low alcohol and lots of residual sugar, made from the Muscat Blanc grape. While "Moscato" on its own is unregulated (there are versions made everywhere), the wines from Asti in northern Italy can have DOCG status as a mark of quality. It can be used to top off sweet and fruity cocktails. Also look out for Asti Spumante, the fully sparkling, drier style of this wine.
California Sparkling Wine
Easily the most unregulated sparkling wine category, you'll find mass-produced wines made in the Charmat method with Muscat grapes, as well as high-quality traditional method wines that adhere to the rules of Champagne. As with much Californian produce, the rich soils and favorable climate yield wines that are luscious and fruity. You'll often see famous French winemakers set up shop in America, who hold themselves to strict standards and extended aging in the bottle before the wines are released. Food pairings and cocktail usage vary widely with style and quality.
Sekt
The German term for sparkling wine is Sekt, most of which is made in the Charmat method, often from international wines blended with local German wines. You may see high-quality bottlings from a specific vineyard and vintage, likely made from Riesling, Pinot Blanc, Pinot Gris and Pinot Noir. Much of these wines are drunk locally, so if you see a bottle at your favorite shop, give it a try. Expect some floral, fruity wines with great acidity and lots of bubbles. Affordable bottlings of Sekt can be a fun replacement for Prosecco in your cocktails.
Bold as Love
Introducing the 'Bold as Love' cocktail, a harmonious blend and vibrant melody of taste and elegance.
The Old Cuban Remix
Indulge in the rich symphony of flavors with "The Old Cuban Remix" cocktail. It's a sophisticated twist on a classic, designed to elevate your sipping experience.