Cheers to Halloween
For many, Halloween is about costumes and candy. But for those in the hospitality industry, it's an opportunity to wow guests with a flavorful menu filled with well-balanced cocktails, inspired by the spookiest of all seasons. 
Halloween
Growing up as a child in 1980's North America, clearly I ran from house to house dressed as some cartoon character on a yearly basis without any clue as to why. I mean, I knew I wanted candy, and I knew the neighbors had it for me, but searching for a deeper meaning I was surely not. Aging now so far as to near 40, my perspective has changed many times over. I've moved from elation, to confusion, to rejection, and back to elation. I'd love to share with you my take on the process, and as I live in a bar, the ways we can relate that to our lives as bartenders. Welcome back to Halloween, Samhain, solstice, or whatever you'd like to call it.
If you're like me, you've rejected Halloween, and possibly holidays of all sorts because they're typically celebrated with no deep insight, the aid of shimmering plastic mass-produced decorations, and seem to put an undue pressure on family/social interactions and habits. I'm here to talk you back into holidays, and to point out that you probably just dislike the "how", not the "what". What we now call Halloween seems to have originated from the yearly pre-winter celebration of deaths of the past in preparation for the annual death of nature through the winter. The food, candy, lanterns, and dress are symbolic offerings to our ancestors that our current neighbors get to ingest guided by lights creatively carved to signal our participation. I think largely we can view this as a celebration of rebirth, and a time for reflection and growth, all the while nourishing our communities for the long, dark, cold times ahead. What better way to translate that into our adult lives than to take a creative approach to integrating new flavors on our cocktail menus?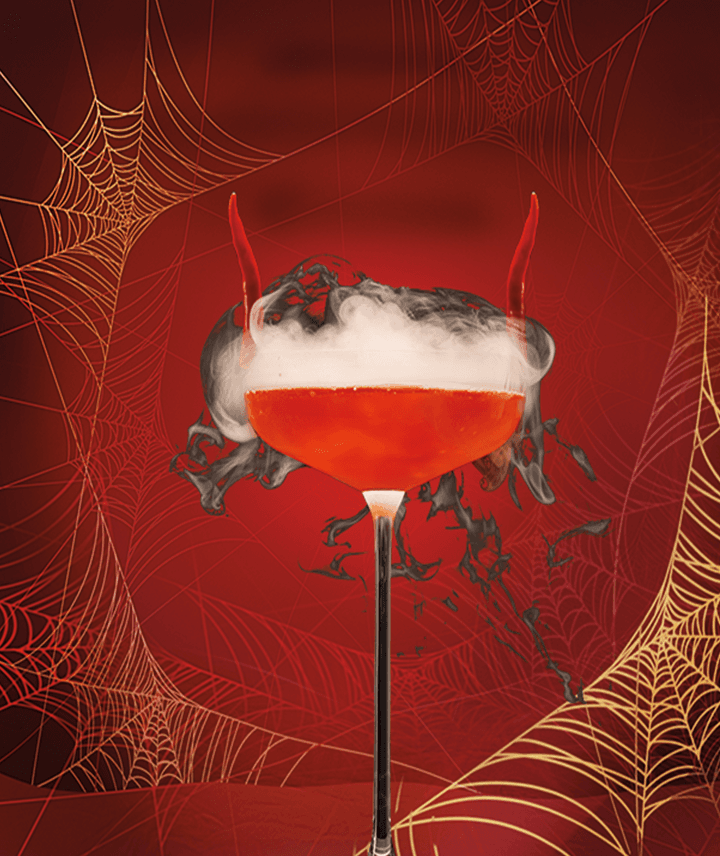 Flavors of Halloween
First, let's think of what flavors are typically involved in a Halloween celebration. Common fall items, for sure, such as apple, raisin, nuts, chocolate, mulled wine, and corn. Using resources like The Flavor Bible, we can do research to find what flavors these individual items might like! For example, raisins like almond, cinnamon, lemon, red wine, and dark rum. Sounds to me like a split-base amaro/bourbon sour. The sweetener could be a red-wine syrup balanced by the acid of lemon juice. Salt (via a 20% saline solution) might be added in a very small amount to reduce the perception of acidity in an attempt to use less sweetener and still achieve balance. After all, we add sugar to balance alcohol, acid to balance sugar, and salt to balance the acid. None of these items should stick out, and if they do, the amount in the cocktail should be reduced. Let's break this drink down. 
Since this looks like a whiskey sour, we might start with the Cure Bar classic sour build, which is 2oz aged brown spirit, .75oz lemon juice, .75oz white 1:1 simple syrup, and 1 drop of 20% saline solution. The simple makes the whiskey easier to drink, the lemon balances the simple, and the salt reduces the acid perception so that we can taste the lemon without its acid interrupting the whiskey. After all, a glass of lemon juice and whiskey would be highly unpleasant. In this case, we're swapping the white 1:1 simple out for red wine simple, which essentially replaces the water in simple syrup with red wine in order to pack flavor into the cocktail where previously there was dilution. Don't get me wrong, water is an excellent carrier for sugar in the event that additional flavors aren't necessary or beneficial, but it's an easy way to toss an extra flavor into the drink. If the red wine we use for the syrup is particularly acidic or tannic, we may want to add another drop of 20% saline solution in order to balance the drink, and a good way to know when you've added too much is when the drink tastes salty at all. 
Flavors
Let's explore two more flavors from the fall lexicon and dive explicitly into recipes you can repeat in your home or bar. The flavors we'll be building around independently are apple and chocolate. Apple tends to befriend honey, cinnamon, vanilla, clove, madeira, and ginger. Chocolate seems to dig dark rum, orange, mint, lemon, banana, and coffee. When building around flavors, the central theme of the drink doesn't need to be its largest ingredient by flavor, nor does it need to inhabit a specific function or role in the drink. Rather, it can simply provide direction. In the case of the apple drink, the apple will be used for garnish only. As far as the chocolate drink, we'll incorporate chocolate via both garish and liquid ingredient. Neither will be fully present in the base spirit, nor in any primary modifier.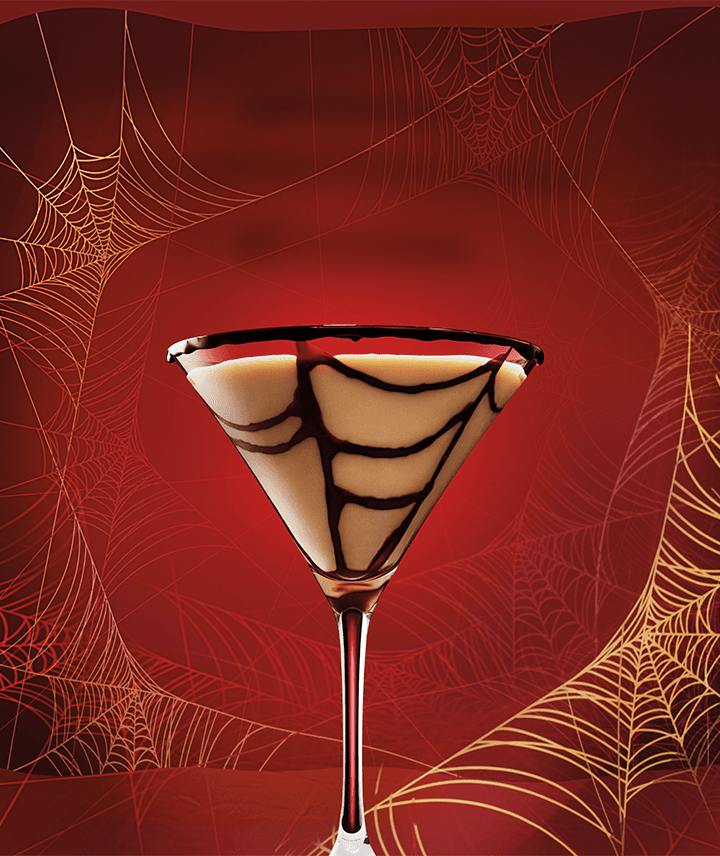 Halloween Cocktails
From the Talisker Storm, we'll grab cinnamon, honey, and the dried fruit and nuts madeira flavors that pair so well with apple. In order to incorporate clove, ginger, and vanilla, we'll be adding a Czech Republic clove liqueur, ginger syrup, and sweet vermouth for this Vieux Carre riff. The drink will be centered around Talisker Storm, using a full 2oz pour for the base spirit. The 1oz of modifier traditionally used in the Manhattan category will be split between .25oz clove liqueur, .25oz ginger syrup, and .5oz sweet vermouth. One dash of bitters will be added, of course, to tie everything together. This drink will be short-stirred, poured over a large ice cube, and garnished with a fresh-cut red apple slice held in place by the large ice cube. 
In Zacapa No. 23 Rum, we'll find almond, bitter chocolate, and ripe banana, which will be paired with creme de cacao, espresso, mint leaves, lemon oil, and orange bitters as representatives of the remaining pairing notes we're building around the friends' fo chocolate. Again, the drink will be centered around the base spirit of Zacapa No. 23 Rum, using 1.5oz. The modifier set will include 1oz chilled espresso, .5oz creme de cacao, .25oz demerara 1:1 simple syrup, 1 dash of orange bitters, 5 atomizer sprays of lemon oil, and 4 mint leaves. This will be shaken hard with several 1in ice cubes and fine strained into a coupe. The garnish will be a square of 65% dark chocolate. 
Cocktail Concepts
These concepts can be used to build a drink around any flavor or series of flavors. Although cocktails and cocktail balance aren't the only important feature of a bar, they're surely important tools in the tool belt that make us bartenders and help to achieve the goal of adding value to the lives of our guests. Enjoy your fall season—whatever you may call it! I love you and I hope every day is the best day of your life.
Fall Storm
Embrace the captivating allure of the season with our 'Fall Storm' cocktail, conjuring the essence of autumn in every sip.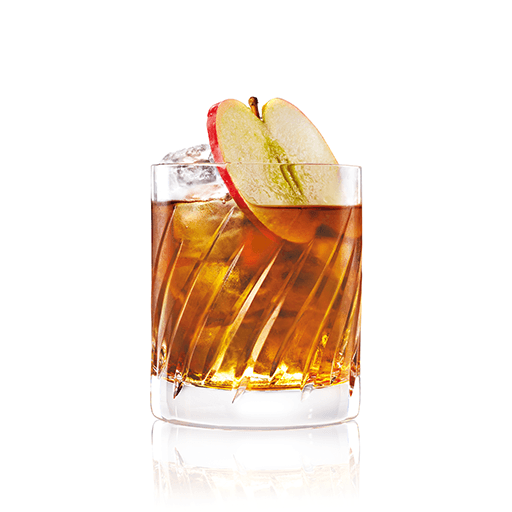 Longest Night
Indulge in the captivating allure of the "Longest Night" cocktail. An elegantly balanced, symphony of flavors that captures the essence of endless nights.