Benefits of Seasonal Menus
What's in Season and Why it Matters:
Summer is here and as usual, it's full of flavors and colors! It can be easy to forget that seasonality matters when summer makes it feel like everything is "in" and available. In order to boost sales and make your summer menu come to life, be sure to keep in mind these three factors when creating your seasonal menus.
Why Local?
Produce supply is high when it is in season and suppliers don't have to go far to source fresh products. It's easy to support local farms since suppliers don't have to seek out different climate growers to meet demand. Excluding hot-house or greenhouse-grown produce, fruits and veggies grown out of season are typically grown in a different climate. When produce is grown in a different climate, there are a few negative implications. First, the produce must spend longer travel time in crates, on trucks, on planes and on boats - which causes the price to increase to cover these incremental costs. Additionally, since the produce is passing through a longer, more complicated process from the farm to your bar or restaurant, there is a higher risk of contamination as it passes from hand to hand. Overall, one could argue that you're spending more money for a lower quality product!
On the contrary, when fruits and vegetables travel across shorter distances, we are able to reap a ton of positive benefits. Since there is minimal transportation required, the buyer is able to purchase farm-fresh produce at a more reasonable cost. If you replace your existing imported ingredients with those purchased locally, you'll be able to charge the same amount for a cocktail made with less expensive ingredients – resulting in an immediate increase to your bottom line! Also, when we purchase locally instead of importing from outside regions, we decrease the number of miles the food must travel to its destination.
Even if your bar or restaurant doesn't change menus strictly by the seasons, science and history have strongly indicated there are huge benefits to eating seasonally and locally. Food tastes better, is more affordable and supports local growers while minimizing carbon footprints. What's not to love about that!
Better Flavors & Nutrition
Throughout the summer months, aside from seeing longer days, we see an abundance of great fruits and veggies come into season. Strawberries are juicier, redder and sweeter. Honeydews aren't crispy and watery, but actually taste like fragrant honeyed melon! Vegetables like green beans, carrots and summer squash are bolder and more flavorful. Shishito peppers, the tangy and vegetal bar snack that brings a kick to any cocktail pairing, will be firmer and more delicious in the summer (see below for cocktail pairing)! So, why is this? It's simple. During the summer, fruits and veggies are given more opportunity to sun-ripen while being grown in their natural climates. As they are ripening, bees and animals that pollinate them are active in their natural rhythms that the produce has evolved to thrive in. This marks the perfect time to really make your cocktails stand out by blending flavors with more character, freshness and boldness! 
When purchasing produce according to its season, the plants are within their window of optimal growth and maturity – leading to big, bold flavors and good-for-you nutrients! Allow your cuisine and cocktails to shine with ripe, rich ingredients, sourced with intention and care. For example, add bright, juicy fruits and big bouquets of herbs to summer spritzes that will slowly infuse the cocktail with flavor and aroma as the drink rests (see recipe below). Summer squash and okra are super nutritious and beautiful paired with a spicy or savory summer cocktail. Bell pepper, celery and banana will bloom with tangy, fruity and full-bodied character when appreciated in their prime. Your attention to detail and commitment to quality is sure to wow your guests!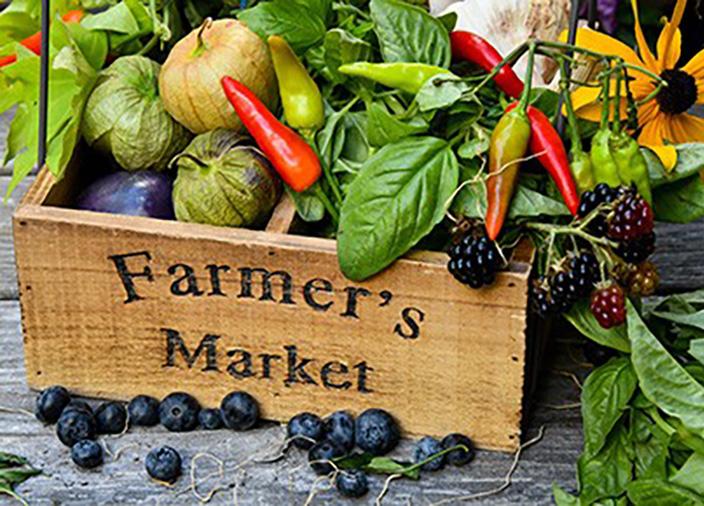 Business Benefits
Aside from the back-end benefits of using less expensive, fresher produce, there's also a large impact publicly. When you provide higher-quality products to your customers – they'll take note. Not only will your clientele keep coming back for your delicious, bold flavors but many will also appreciate the idea of you giving back to your local community. As a result, you'll likely benefit from new and repeat customers, as many individuals will want to support a bar or restaurant that engages in sustainable practices while also empowering local entrepreneurs.
Why not lean into these amazing benefits that you're providing to your consumers and connect with guests about the additional value you've built into your menu? There are tons of creative ways that you can highlight the local flavor and flair that exists within your food and drink offerings. Whether you identify local cocktails and dishes with a special icon or specifically feature the name and city of the farm within the item description, it's proven that consumers are actually seeking out restaurants that use local ingredients! According to the National Restaurant Association, for example, nearly 60% of adults say they "look for restaurants that serve locally sourced food." By localizing where possible, and highlighting the sustainability and freshness of the food, you're sure to add value and catch the attention of your guests.
Plus, any money spent with local growers will ultimately remain in your community and is more likely to be reinvested in your and other nearby establishments – a win-win!
All In All, A Ripe Deal!
At the end of the day, by planning ahead to incorporate seasonal ingredients into your food and beverage menus, you're able to support local businesses and the local economy, provide better tasting and more nutritious options for your guests, and deliver bolder, fresher ingredients to cut costs and overall carbon emissions.