Masterclass
Expert Guide On Cocktail Delivery and Takeaway
Learn how to offer a successful delivery and takeaway cocktail service in harmony with your existing venue with this Masterclass from Diageo Bar Academy.
Authors: Tess Posthumus, Cocktail expert Vijay Mudaliar, High-ranking bar owner
Estimated Watch Time: 1 hour 5 minutes
A New Revenue Stream
Offering takeaway cocktails and delivery services can help your venue unlock new revenue streams. Get insight from cocktail specialists Tess Posthumus and Vijay Mudaliar as they share tips to help you build your takeaway service and maintain success.
Guests are always looking for new and exciting ways to enjoy quality drinks. Watch now to learn the best menu items to offer, how to select delivery partners that suit you, and advice for protecting your profit margin.
Key Learning Outcomes
How you can introduce delivery and takeaway cocktails to your offering

Tips for making your takeaway options profitable

Understand the best cocktails and ingredients that suit takeaway and delivery

Best ways to stand out in the market
Masterclass Chapters
Incorporating Takeaway and Delivery
How to Drive Sales
How to Stand Out in the Market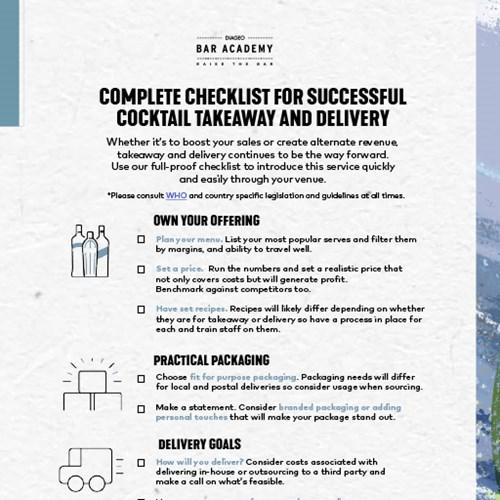 Cocktail Takeaway & Delivery Checklist
Download this checklist for guidelines and processes to follow when offering delivery and takeaway drinks and cocktails. Always have this resource on hand to guide you to success.