Masterclass
Raise the Bar with Home-Grown Ingredients and Flavors
Authors: Mark Moriarty, Award Winning Chef and Diageo's Global Gastronomer. James Fowler, Award Winning Bartender and Restaurateur
Estimated watch time: 50 Minutes 2 Seconds
Watch Mark Moriarty and James Fowler as they discuss the benefits of growing your own ingredients and flavors to offer guests delicious cocktails.
Serving Up Freshness
Whether fresh or fermented, the quality of ingredients is important in your menu items. This is particularly vital for drinks and dishes that require fresh ingredients like basil, mint, berries, etc. Using fresh ingredients ensures guests savor the authentic flavor of every serve.
Stay Ahead of the Game
For fresh ingredients, you can grow your own or source locally, depending on your use. For example, ingredients like mint are used daily in cocktails and garnishing, so you can grow your own for greater control of freshness.
This Diageo Bar Academy masterclass offers guidance on how to do that, covering everything from sowing and picking to packaging and preservation. Join Mark Moriarty and James Fowler as they share tips for preserving ingredients to retain flavor, growing your own ingredients, managing waste, and building relationships with local suppliers.
You'll also learn how to experiment with different fresh garden ingredients and flavors to transform your cocktails into signature drinks.
Key Learning Outcomes
Learn how to serve up freshness at your venue

Understand the benefits of growing your own vs sourcing locally

Experimenting with different flavors and ingredients
Masterclass Chapters
Serving up Freshness
Grow Your Own vs Local Sourcing
Experimenting with Flavors and Ingredients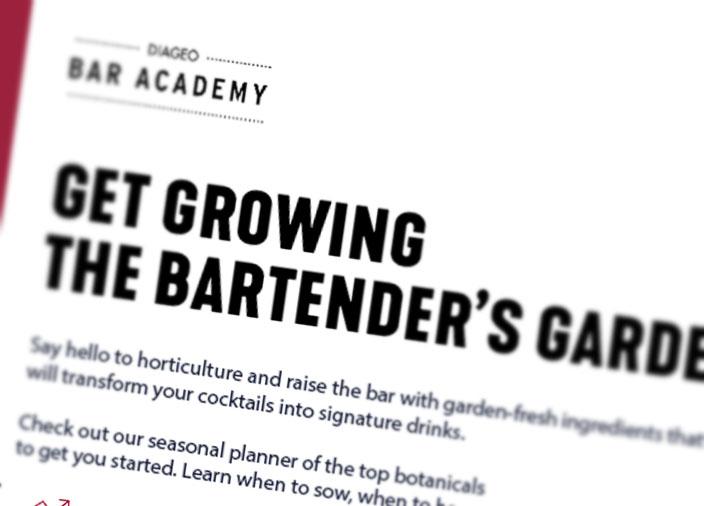 Home Grown Ingredients and Flavors
Growing your own ingredients guarantees fresh flavors for your drinks and dishes. Download this seasonal planner and discover the top botanicals to grow in your garden. You'll also learn when to sow and harvest them.