Masterclass
Sustainability Initiatives To Make Your Bar Thrive
Find out intuitive and practical ways to make your bar more sustainable and energy efficient with this Masterclass from Diageo Bar Academy.
Authors: Bob Gordon, Forum Director of Zero Carbon Forum.
Renato Tonelli, Award-Winning Sustainable Bartender.
Estimated watch time: 1 Hour 13 Minutes
Make Your Bar Sustainable
Get expert advice from leading sustainable bartender Renato Tonelli and Zero Carbon Forum director Bob Gordon as they share insight on improving your venue's sustainability. Learn effective ways to reduce your energy bills, reuse leftovers, and discover how to rethink your menu to make it more sustainable.
Reducing your bar's carbon footprint does more than just help the environment. Focusing on sustainability can help you run your venue for less and attract more eco-conscious customers. Watch now to help you grow further as a venue and bartender.
Key Learning Outcomes
Methods of making your bar more sustainable

The potential benefits your venue will see once you adopt these initiatives

How your venue can reduce costs while being more energy efficient
Masterclass Chapters
Why we need to care about sustainability
Sustainability benefits for the bar industry
How to make sustainability happen in your bar
Sustainable Bar Checklist
Transform your bar's sustainability by following our in-depth checklist. Download now to find tips to follow to reduce costs, boost energy efficiency, and more.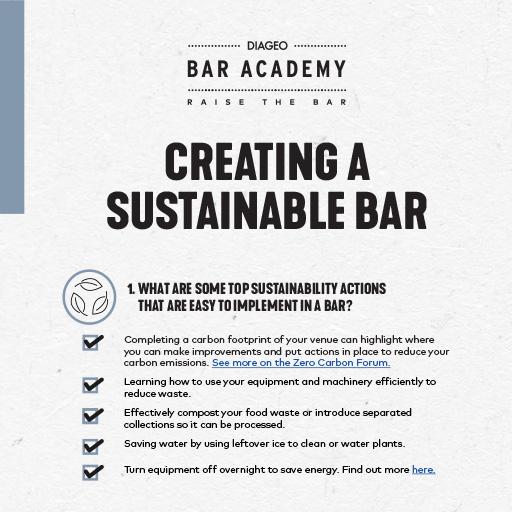 Creating A Sustainable Bar Q & A
Access exclusive audience questions and answers. Download now to further pick the brains of Bob and Renato.