Arguably the most famous beer in the world, dive into the story behind the brand and find out what makes Guinness so special.
Estimated reading time: 6 minutes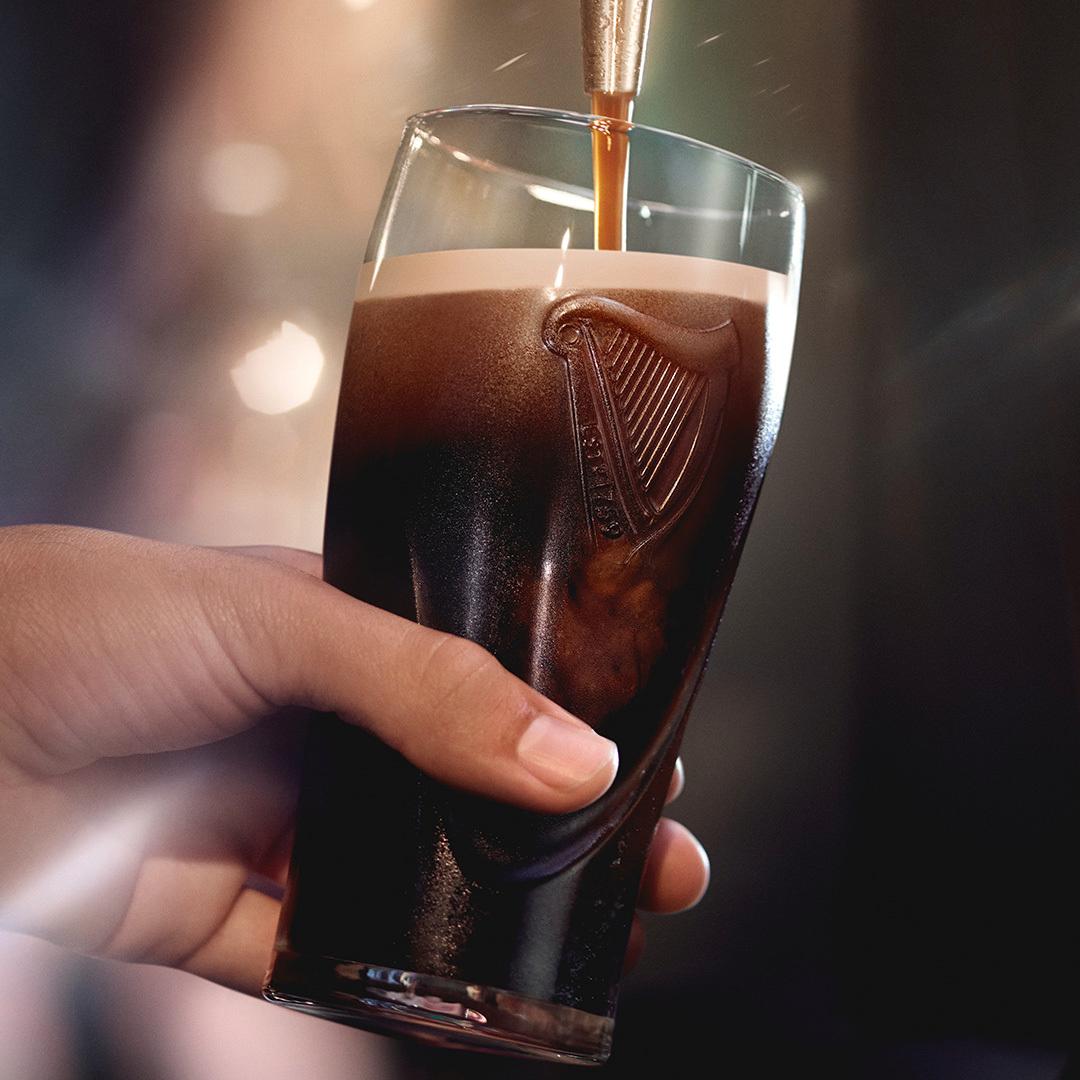 Welcome to the World of Guinness
Guinness is a renowned brand that arguably boasts the most distinctive beer in the world. While Guinness is known primarily for its iconic Guinness Draught Stout, it's more than a one-beer brewery. We thrive on new challenges and new creations, while always paying homage to where we began over 260 years ago in the centre of Dublin, Ireland.
It all started over two hundred and fifty years ago, when Arthur Guinness signed a 9000-year lease on a derelict brewery at St James' Gate, Dublin, and so began the story of Guinness.
Never afraid to do things differently, Arthur Guinness soon stopped brewing ale and became the first Dubliner to focus solely on porter, a black beer from London finding favour in Ireland's capital. This change set the tone for Guinness' innovative and adventurous approach to brewing.
By the early 1800s, while other breweries stayed close to home, Guinness struck out on its own, braving the perils of early sea travel to export its now famous 'black stuff' across the globe to locations as far flung as the Americas and Sierra Leone.
In 1959, Guinness made history as the first brewery to introduce nitrogen to its beer, resulting in the smoother, creamier finish that has come to be so synonymous with Guinness Draught.
With that first batch of Irish stout there began a legacy of innovative brewing that's since been upheld all over the world. Over 20 different beers now bear the Guinness name, served in over 150 countries across the globe, and we're proud to have gone to unprecedented lengths to set up 18 breweries across the globe. From kick-starting the barley-farming industry in Uganda, to a new dispenser technology that delivers a perfect serve every time, we've stopped at nothing to bridge cultures and cross continents.
No matter where it's brewed or served, every single pint, bottle or can of Guinness adheres to the lofty standards set at St. James's Gate in Dublin. In fact, every single Guinness undergoes over 280 quality checks before being released from the brewery. Over 100 million glasses of Guinness are enjoyed every single day around the world - that's 1.8 billion pints sold every year.
260+ Years of Brave Decisions
Production & Flavour
Guinness is brewed using just four natural ingredients: water, barley, hops and yeast. Each of these ingredients is hugely important to the flavour of our beers. Guinness is the largest brewery in the world to roast our own barley. This barley is roasted to precisely 232C (449.6F). Any colder and it's not good enough, any hotter and it catches fire – it's an exact science!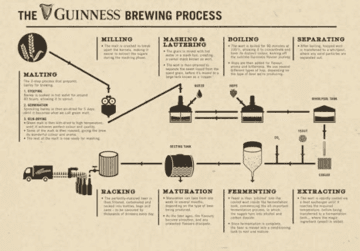 Explore the Portfolio
Guinness has always been a brewery of innovation. In fact, there has been an experimental brewery on the St James's Gate brewery site for well over 100 years. With more than 20 Guinness beers available globally, click below to find out more.
A Sustainable Legacy
Our state-of-the art Brewhouse 4 in Dublin is one of the most technologically advanced and energy efficient breweries in the world. Built back in 2014, since we first opened the doors, we've reduced our usage by 45% and our carbon emissions by 44%. All of our brewing by-products are recycled as animal feed and we capture and clean CO2 from our brewing process and re-use it to carbonate our beers. All of our Guinness cans, glass bottles and packaging are 100% recyclable, and our draught beer is packaged in stainless steel returnable kegs.
But we are not stopping there. By 2030, the St James' Gate Brewery in Dublin will be net zero carbon and 100% powered by renewable energy, along with a further 30% reduction in water use.
Interesting Facts
Guinness' yeast is so precious that Guinness keeps a reserve amount under lock and key, just in case anything should happen to the main supply.

In 1959, Guinness Draught became the world's first nitrogenated beer, marking the 200-year anniversary of Arthur Guinness signing a 9,000-year lease for the building.

The perfect pint of Guinness should take 119.5 seconds to create.

Guinness has had an experimental brewery at St James's Gate for over 100 years. Today this is called the "Gunness Open Gate Brewery" and located within the building is a taproom bar where people can come and try exciting new craft beers before anyone else.