Our Brands
Guinness Draught
Rich and creamy. Distinctive, ruby red colour. Velvety in its finish.
Estimated reading time: 4 minutes
History & Heritage
Our most iconic beer was developed in 1959 by our brewers and launched as a celebration of the 200-year anniversary of Arthur Guinness signing his 9,000-year lease. It established itself as the top-selling Guinness beer with lightning speed. Drinkers were instantly drawn to its complexity and bold combination of flavours.
The perfect pint of Guinness is a unique experience in the world of beer. It's certainly a matter of taste; but it's also about presentation, temperature and distinctive layers that create an impeccable pint of clear, dark stout topped with a white, dense, creamy foam.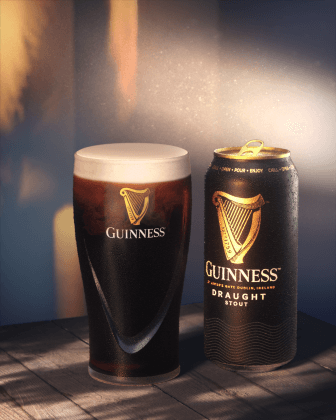 Why Is the Two-Part Guinness Pour Important?
It guarantees the perfect taste due to the perfect head size.
The creamy, nitrogenated head of Guinness has a bitter note to it, this is crucial to the beer's overall flavour profile.
If the head is too small, it means not enough bitterness to balance the sweetness from the malt. If the head is too big, it gives too much bitterness which overwhelms the sweetness. A two-part pour provides the perfect head height and therefore the perfect balanced flavour profile. It delivers the perfect visual presentation:
Helps achieve a consistent surge which visually looks amazing.
Helps achieve the perfect head height which is very important as consumers drink with their eyes.
Helps achieve the perfect dome which is visually appealing.
HOW TO POUR A GUINNESS
Pull the tap fully down and dispense at 45 degrees into a Guinness branded glass.
Fill till ¾ up the glass.
Allow to settle.
Top up by pushing the tap handle back just proud of the rim, thus creating the fabulous Guinness dome.
Take a deeper dive into how to pour a perfect pint of Guinness. From elements found in the cold room, to keeping glassware top notch, become a pro at pouring Guinness Draught for your guests.
Guinness 'The Perfect Pint'
Tasting Notes
Aroma: Sweet smelling with a coffee and malty nose.
Flavour: Perfect balance of bitter and sweet with malt and roast characters.
Palate: Smooth, creamy and balanced.
ABV: 4.2% ABV.
Appearance: Distinctively dark, with a rich creamy head.
Interesting Facts
It takes 119.5 seconds to pour the perfect pint of Guinness Draught.

Guinness Draught was the world's first nitrogenated beer, launched in 1959.

Guinness Draft is not, in fact, black – it's ruby red! Hold your glass to the light to see!

Tere are over 300,000 nitrogen bubbles in each pint. The widget releases nitrogen in cans.