Our Brands
Pampero Aniversario
Estimated reading time: 4 minutes
HISTORY & HERITAGE
Having built an iconic rum brand from humble beginnings, Pampero's founders then poured all their skill and knowledge into crafting a rum to mark the 25th anniversary of its founding in 1938. Little did they know that 60 years later, this rum would be the most celebrated their country would ever produce, having won more gold and double gold medals at the San Francisco World Spirits Competition than any other Venezuelan rum.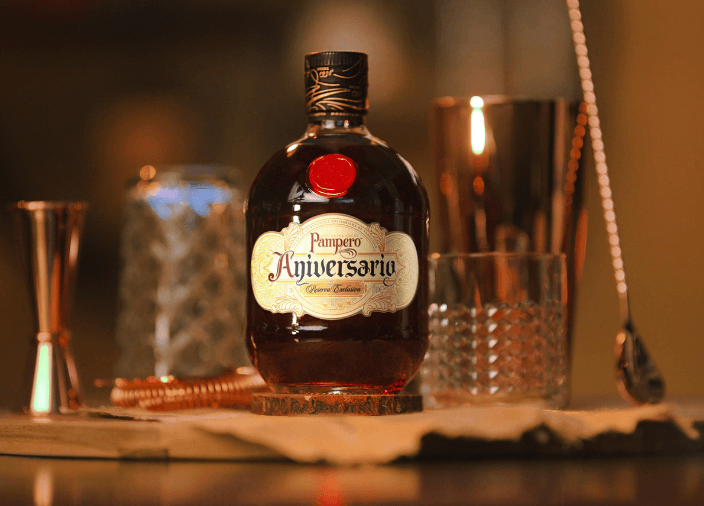 THE MAKING OF PAMPERO ANIVERSARIO
Pampero Aniversario is a masterclass in innovation. Pampero's founders disrupted the usual methods of rum production, adding sherry casks to their array of ex-bourbon barrels for the first time to produce a dark rum of exceptional colour, flavour and bouquet. 
Only the rarest, most complex rums (for a minimum of four years) from Pampero's 'Exclusive Reserve' collection are selected for Pampero Aniversario. The unique bottle shape is inspired by the native Venezuelan tapara fruit, used by the llaneros (Venezuelan cowboys) as a drinking vessel and carried in a leather saddle bag. 
Pampero Aniversario is an intense, mahogany coloured rum, designed to be sipped and savoured neat for its darkly exotic flavours and aromas of vanilla, tropical fruits and cocoa.  
However, bartenders all over the world are discovering that there is a lightness to the rum that unlocks endless possibilities. It will mix brilliantly in a classic or world-class cocktail that requires a little added depth and flavour, bringing a unique and delightful experience for guests, while simultaneously setting a bar menu apart.