The history and story of Don Julio
Don Julio is one of the most popular tequilas and a fast-growing favourite among customers and bartenders. We look at the story behind the famous name and find out why Don Julio remains the premier luxury tequila around the world.
Estimated reading time: 5 Minutes
Don Julio Tequila is named after its formidable founder, Don Julio González-Frausto Estrada, who was born in 1925 in the highlands of Jalisco, Mexico. When his father died, leaving behind a wife and seven children, Julio was forced to become the sole breadwinner of his household at just 15 years old.
He took a job as a farmhand, but his income of nine pesos a week couldn't support a family of eight. He then embarked upon his first independent tequila venture, selling tequila across Jalisco on horseback. Instead of nine pesos a week, he was soon earning nine pesos a day.
Defined By Passion
In 1942, with nothing but passion, Julio approached the wealthiest merchant in the Mexican town of Atotonilco for a loan to open his distillery. Seeing exceptional drive in the young man, the merchant gave him 20,000 pesos and Julio got to work.
He soon purchased his first distillery, later naming it 'La Primavera' ('Spring'). This would be the first step on his journey to creating the iconic Don Julio brand, the world's first luxury premium tequila.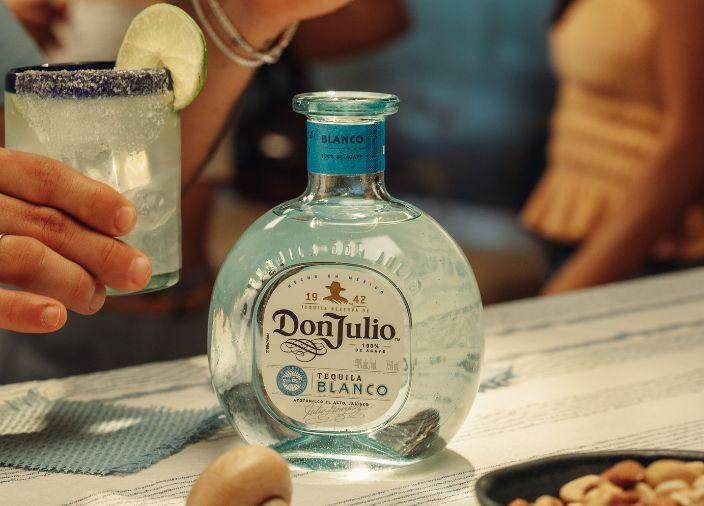 Transforming Tequila
Over the next 40 years, Don Julio González revolutionised the tequila industry. He chose quality over quantity, planting each agave plant further apart to give them room to grow.  He also allowed each plant to grow to full maturity before harvesting – a practice that would later become an industry standard.
He only selected the most succulent portions of the piña, before slow roasting them for 72-hour cycles. The result was the first true luxury tequila – richer and smoother than anything that had come before.
He also redefined the bottling tradition. Tequila bottles had always been tall and were usually hidden beneath the table. Don Julio González envisioned a spirit worth proudly displaying on the table and designed a shorter bottle so his guests could still see one another across the table.
As his success grew, Don Julio González stayed loyal to the community that had made his labour of love a phenomenon. Staying in Jalisco, he established a distillery where generations to come would follow his passion for quality and craftsmanship.
Don Julio Today
Don Julio's legacy lives on in today's distilling team.
To mark the 70th anniversary of the brand in 2012, they took a leaf out of Don Julio's innovative playbook, creating Don Julio 70, the world's first clear añejo.
They continue to set the industry standard for tequila, doing so with an amazing reverence and respect for the way that Don Julio first made his tequila, over 80 years ago.
Key Takeaways
Don Julio is named after its founder, Don Julio González-Frausto Estrada, who revolutionised the tequila industry over his 60-year career.

The tequila distillery he opened as a young man, 'La Primavera', is still in use today.

Don Julio pioneered agricultural techniques that set new industry standards

He also transformed the traditional tequila bottle into the round, short variety seen on shelves today.
Join Our Community!
For more exciting histories and brand stories, sign up and be a member of our global community. Also, subscribe to our newsletter and be the first to get new updates. Diageo Bar Academy offers a resource for bar professionals to connect with bar industry experts and access exclusive content.