The Evolution of the Bartending Industry
Author: Simon Aukett
Estimated reading time: 5 minutes
The bartending industry has a long history filled with many ups and downs. Senior Bartender Simon Aukett delves into the past, present, and future of bartending, and explores the beautiful story that has unfolded over the years.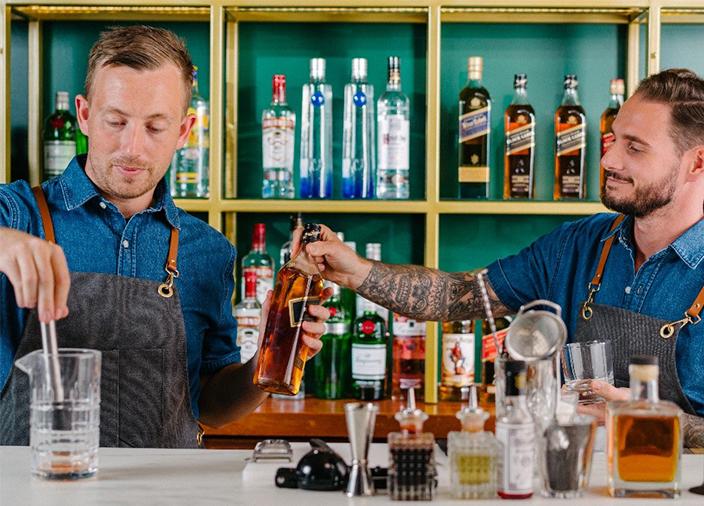 Now & Then
The history of bartending is a long and varied one – from the days of Jerry Thomas (who was responsible for the 19th Century's Bon-Vivant's Companion, a must-have for any aspiring bartender), to Harry Craddock (who complied the Savoy Cocktail Book, an essential compendium of drinks from the 1930's and still a staple in many of today's bars). 
The early bartenders - responsible for many of today's classics – typically had far fewer products and ingredients compared to the range we can get our hands on today, with slow shipping speeds limiting the availability of imported goods. 
(Re)Birth of the Bartender
From experience working in this industry over the last decade, the role of a bartender has become a much more respected career choice and matured into a position of status.
When I first started out, everyone would ask me, "Sure you bartend but what are you going to do after that? What's your plan?". They couldn't comprehend the idea of fully committing to the hospitality industry. At the time, it was a stopgap for students and people undecided.
Many legends have helped establish bartending as the reputable craft that it is and have encouraged and given way to younger professionals who in turn are setting future generations up for success. Today, there is then a new wave of trends, skills and inspiration that we can look forward to.
Beyond the Bartender
As the industry grows, it's not just the role of bartenders that is evolving. Bar managers now have a greater responsibility to ensure their venue is up to date with current trends, visible on social media and attracting all the right attention. 
Equally so, the role of servers has grown. There is a higher expectation placed upon a server to know as much as the bartender when it comes to cocktail and spirit knowledge. Today, many venues have members of their bar team do shifts on the floor to ensure a great customer experience. They also have monthly tests on specific spirit categories, recipe knowledge and historical facts. 
Key Takeaways
Early bartenders had a significantly limited selection of products and ingredients.

Bar trends change and develop, bringing a wave of different bartending styles.

Today, the role of a bartender has become a much more respected career choice.

Continual learning is important – stay up to date and innovate by reading, listening and researching.

Bar managers now have a greater responsibility to ensure their venue is on-trend and attention-grabbing.
Join Our Community!
Join our global community on Facebook and Instagram, and let's interact! Become a member of Diageo Bar Academy for free today and get loads of extras, including exclusive access to our free menus, recipe cards, courses, and more!