Cinema Inspired Cocktails
Roll out the red carpet for some exciting and inspiring cocktails made famous from the world of cinema.
Estimated reading time: 5 minutes
Taken From The Silver Screen
The film industry greatly influences modern culture and a big blockbuster can ignite new trends in multiple industries. Over the years, cinema has helped certain drinks explode in popularity.

Expand your knowledge and discover some unique themed cocktail serves you can offer at your venue.
Perfect for accompanying a special screening or film quiz at your venue, these drinks can add real value to the guest experience.
1. White Russian From The Big Lebowski
The White Russian is a reasonably recognisable cocktail today, with much of that being attributed to its appearance in The Big Lebowski. Sipped on constantly throughout the movie by "The Dude", played by Jeff Bridges, the film made the drink an overnight sensation.
Despite its name, it has tenuous ties to Russia, with its only connection being the use of vodka as its base spirit. The White Russian Recipe is a creamy and rich drink, similar to an alcoholic iced latte and is built over ice with coffee liqueur and cream.
Swap the cream for almond milk to add an earthy, nutty undertone and create a smooth, dairy-free alternative for guests.  
2. CHAMPAGNE CUP FROM THE GRAND BUDAPEST HOTEL
As stylish and meticulously crafted as the film it appears in, the Champagne Cup is a fitting, quirky cocktail that suits the charming and whimsical tone of one of Wes Anderson's defining works.
Sipped on by M. Gustave, played by Ralph Fiennes, as he ponders about his return to the Grand Budapest Hotel, it's a drink that will connect with many of your guests.
The Champagne Cup Recipe stirs together brandy with orange liqueur and cherry syrup, before being strained and topped with champagne. It's classy, elegant and makes a perfect addition to a film-inspired cocktail menu.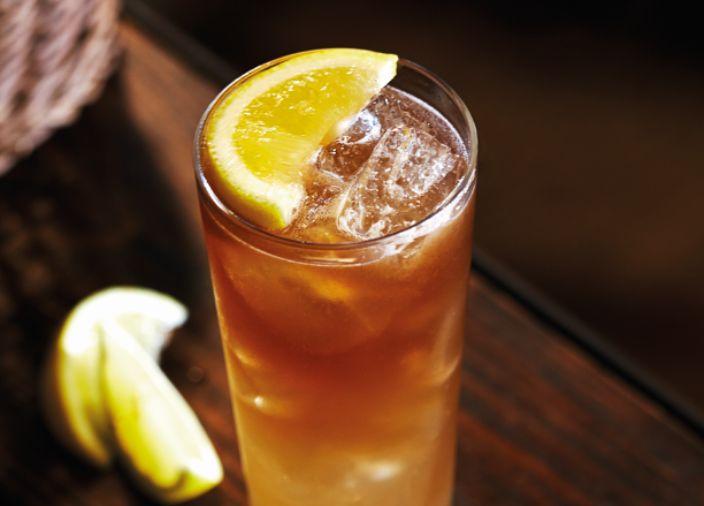 3. Long Island Iced Tea From The Great Gatsby
This modern classic, set in the roaring 20s, helped renew the popularity of many old, waning cocktails, such as highballs and martinis. Still, the Long Island Iced Tea remains the most recognisable.
A robust and impactful cocktail, the drink blends multiple spirits to bring out complementary characteristics. Often mixed with vodka, rum, gin, and agave spirits such as tequila, this Long Island Iced Tea Recipe is topped with a splash of cola to cut through the sharpness of the drink.
Best enjoyed slow, connect with the flappers of the 20s with this classic. 
4. CUBAN BREEZE FROM GLASS ONION: A KNIVES OUT MYSTERY
Cocktails and drinks play a key motif in this modern whodunit, with each suspect having a signature drink allocated to them that reveals more about their personality. Many of these drinks are simple, such as white wine and Scotch, but the Cuban Breeze is a tropical, eye-catching drink worth replicating.
This Cuban Breeze Recipe combines Amaretto Liqueur, vodka, and pineapple juice, creating a perfect citrus and almond fusion. The real-world inspiration is tough to pinpoint and may not even be Cuban in origin, but it is certainly inspired by the tropical Tiki drinks made famous in the Caribbean.
Add lime or lemon juice to create a refreshing twist to the drink or stick with the original ingredients to keep it simple, just like the self-proclaimed 'disrupters' in the film.
Key Takeaways
Film is a treasure trove of inspiration. Search through your favourite films to get ideas that can work in your venue.

Many films have revived old cocktails or created mainstream popularity for new ones, like The Big Lebowski or The Great Gatsby.

Even if a drink doesn't appear in the films you love, you can also be inspired by its motifs and style when creating new cocktails.
There are plenty of places to look to get inspiration for new cocktails. Join Diageo Bar Academy to access more recipes you can adapt for your venue.