Single Malts
Estimated reading time: 5 minutes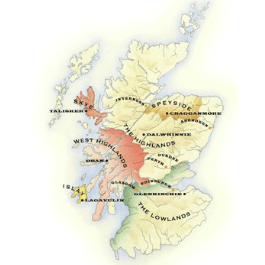 History and Heritage
From the Dalwhinnie single malts crafted in the coldest inhabited region of Scotland, to Caol Ila whiskies distilled on Sound of Islay, every single Scotch whisky has a character as rich and complex as its history.
The main whisky making regions of Scotland are the Highlands, Islay, Speyside, Lowlands and Campbelltown. Each separate region produces their own unique whiskies which have become famous across the world.
Single Malts Craft
A single malt Scotch whisky is produced in batches from only water, malted barley and yeast at a single distillery using copper pot stills.
To be called a Single Malt Scotch Whisky, the liquid must be made of 100% malted barley, originate from just one single distillery, and cannot be blended with any other product from elsewhere.
Dumb Whisky Questions with Tim Phillips & Ervin Trykowski
There's no such thing as a dumb whisky question!