The Laws of Attraction: Recruiting the Right Team
Discover how to develop a recruitment strategy to reduce staff turnover, build a happy team, and increase guest satisfaction and revenue.
Estimated reading time: 4 minutes
Recruiting the right people is crucial for a happy team, guest satisfaction and higher revenue. Discover how an effective recruitment strategy, including interview techniques and retention tips, will help reduce staff turnover and attract candidates who share your business's culture and values and are likely to stay for the long term.
Attract the right applicants
Writing your job advert to attract the best quality applicants is a more effective approach than writing a job advert to attract the maximum number of applications. Your job ad ideally puts off anyone who wouldn't be a good fit and appeals to someone who would be a great fit for your team.
Here are five tips to help attract the best candidates: 
Define your culture and values - Clearly articulate your business's culture and core values in your recruitment communications.  
Craft authentic job descriptions - Write a description accurately reflecting the role and responsibilities.   
Leverage your online presence - Maintain an active presence on platforms like LinkedIn and social media with employee testimonials giving valuable insights into your culture.  
Highlight professional development - Emphasise opportunities for growth and development within your organisation.   
Be transparent about challenges - While highlighting the positives, be transparent about the challenges of working in your business and hospitality more generally. 
Interviews
To determine whether candidates are the best possible fit, the typical hospitality job interview asks questions to understand personality dynamics. This approach is often ineffective, as candidates will only show their best qualities (a little like a first date).
Group interviews offer a better insight into candidate behaviour and how they interact with people and reveal the real personality behind their resumes.
Shortlisting Candidates
When filtering your candidates for interview, consider ranking experience below passion, motivation, and a desire to serve others. Someone with these qualities is more teachable than someone with more experience who isn't courteous.
Body Language
Non-verbal cues are also helpful during interviews. Does the interviewee arrive on time? Do they tuck their chair back under the table? Small moments like this will indicate whether they have the common courtesy skills required to be a member of a high-functioning team.
Interview Strategies 
Carefully planned interviews can help filter candidates. Here are some ideas to help your interview strategy:
Set a hypothetical problem-solving challenge

- Ask the interview candidates to solve the business-related problem in small groups and assess how they work together.

Use role-play exercises

- Offer candidates roles in simulated hospitality scenarios and situational tests like a guest complaint to evaluate their interpersonal skills, communication style and adaptability.

Set a small project task

- Give the candidate a small project, for example, a review of local competitors, and ask them to submit the results post-interview to understand their proactiveness and industry awareness.

Incorporate a trial shift

- Help you, the candidate, and your team see how well they work together and if they fit your culture and values well.
Introduction and Induction
A positive onboarding experience is vital to integrate your new employee successfully. Consider these ideas for your new starter:  
Send a welcome email

with basic information about the company culture, dress code and any materials to review before their first day. 

 

Assign a buddy or mentor

from the existing team to guide them through their first weeks. 

 

Ensure a positive first day

, including a personal welcome from the manager or owner, provide a tour and ensure they have the necessary uniform and tools. 

 

Introduce them to your history, mission and values

and explain the organisational structure and position within the team. 

 

Provide a clearly defined job description

with their responsibilities and how their role contributes to the business's success. 

 

Provide comprehensive training

on job-specific tasks and your service strategy.

Schedule regular check-ins

to discuss their progress, address concerns, and give constructive feedback.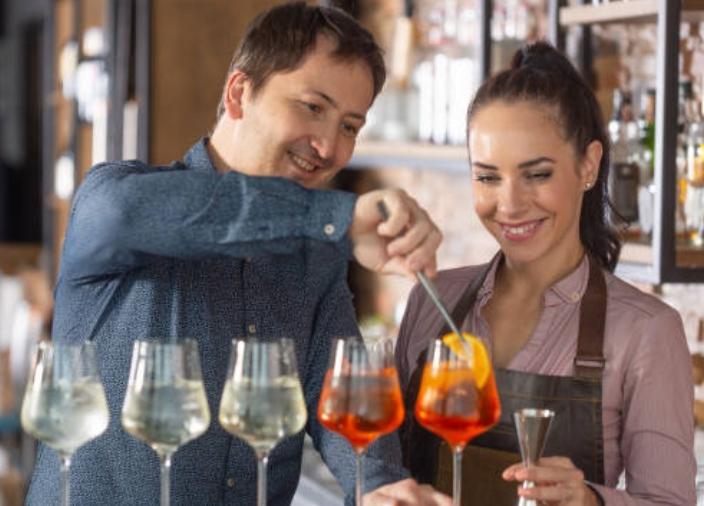 Staff Retention
Suitable benefits create the right conditions for staff to thrive and stay with your business long-term. For example:
Offer competitive rates

of pay benchmarked against other local hospitality operators and other local non-hospitality employment options.

Offer competitive, achievable bonuses

to keep staff motivated and performing well.

Offer a benefits package

in addition to your financial package; consider staff discounts, reimbursement of travel costs or other indirect rewards that make you more attractive as an employer.

Consider staff wellbeing

and benefits like complimentary gym memberships and consider flexible working options and employees' work-life balance within your staffing hours.

Offer team-building activities

to help staff connect and bond outside their working environment.

Stagger benefits

for new starters that kick in after specific periods of employment, creating an added incentive for new starters to become long-term employees.
Key Takeaways
I

mportance of Recruitment Strategy:

A well-crafted recruitment strategy can reduce staff turnover and attract long-term candidates who align with your company's culture and values.

Quality Over Quantity:

Instead of aiming for a high volume of applicants, focus on attracting the best-quality candidates who fit your culture.

Online Presence Matters:

Maintain an active online presence, especially on platforms like LinkedIn and social media, to showcase your company's culture.

Effective Interview Techniques:

Traditional interviews may not always reveal a candidate's true personality. Consider group interviews to observe how candidates interact with others.

Comprehensive Onboarding:

A positive onboarding experience is crucial for integrating new employees successfully. Provide clear information, assign a buddy, and offer training and regular check-ins.
Recruiting the right team is essential to your overall business strategy and can help improve performance and reduce long-term recruitment costs. With purposeful recruitment strategies, you can attract the top talent for your business. With good working conditions, you can retain them, leading to lower costs, higher returns, a happier team and satisfied customers.