Bartending Basics: Techniques, Tips and Tricks for Better Drinks
Are you a master of your craft? Discover the essential bartender skills you should hold to progress and improve the guest experience in your bar.
Estimated reading time: 3 minutes
As a bartender, a core function in your bar is to create a memorable and pleasurable drinking experience for your guests. You should have all the necessary skills nailed to ensure your bartending game is strong and you're performing at your best. Below are basic skills every bartender should have... Ready to tick these off your list?
Basic bartending techniques
Must-have bartender tools
Essential and advanced bartending techniques
How to achieve the perfect serve
Current bartending trends
How to Master Basic Bartending Skills
First things first, familiarise yourself with the common ingredients and cocktail recipes you have decided on for your menu.
Next up, you will need to master the basic bartending skills, techniques and bar tools that will help you hone your craft, climb the career ladder and give your guests the best drinking experience in your bar.
Must-Have Bartender Tools
Once you have all the correct ingredients for making a tasty cocktail, now you need the tools to mix them together. Having the basic equipment nearby helps you to create the perfect serve, quickly, meaning your guests can enjoy a quality, efficient service. So what are the essential bar tools you should have in your bar? Find out here and create the perfect serve every time.
Essential Bartending Techniques
This is essentially a Bartender 101 for every bartender, either new or advanced in the industry. Perfecting your drink-making technique is vital for elevating the guest experience in your bar.
Plus, when you're ready to dig deeper and mix drinks like a true professional, having all of these techniques will only add to your skill set. The majority of drinks will use one of these techniques:
BASIC DRINK-MAKING TECHNIQUES
Shaking – This technique is used for creating chilled and diluted cocktails. Read more to learn the proper shaking duration and method on how to shake a cocktail.
Pouring – Discover the different pouring techniques and how to achieve precision and consistency when pouring a cocktail.
Stirring – Learn the benefits of stirring versus shaking, and the steps involved for achieving a well-stirred cocktail.
ADVANCED DRINK-MAKING TECHNIQUES
How To Achieve The Perfect Serve
Presentation is an important element of cocktail making as it can improve the overall guest experience and also make your cocktail look Instagram-worthy! Considering the little things like the right glass, ice and garnish, will elevate your cocktail and make it stand out.
There isn't a one-size-fits-all approach and perfecting your serve comes with, exploration, practice and consistency. However, there are a number elements to consider when crafting the perfect serve.
1. Glassware and its impact on presentation:
Learn how to choose appropriate glassware for various drinks, glassware trends and how glassware enhances the drinking experience.
2. What role does ice have in serving drinks? 
Learn how to prepare ice properly and how best to use it for different cocktails.
3. Learn how to choose the perfect garnish
Uncover how to select garnishes that complement your cocktails and learn different techniques for garnishing drinks effectively so your drink stands out.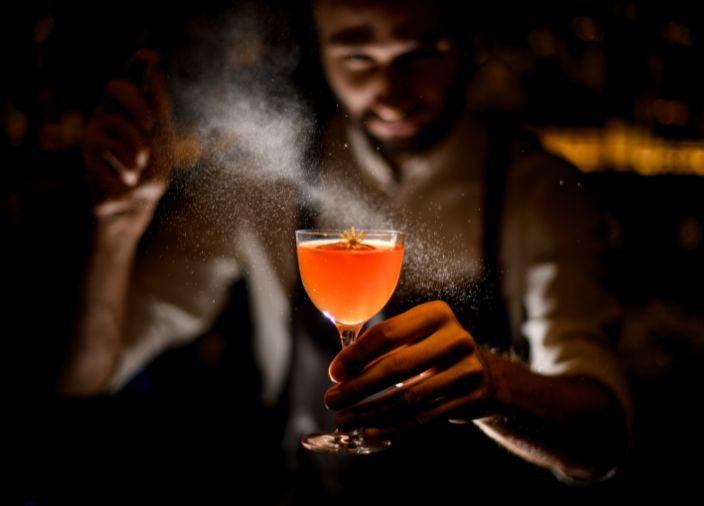 CURRENT BARTENDING TRENDS
Key Takeaways
Understanding and learning the basic bar skills, including techniques, tools and trends, will help you succeed in your career, as well as elevate the overall guest experience.
It's important to practice and continuously learn new tricks of the trade to improve your service.
Don't be afraid to explore your creativity and experiment with new trends, whether that's with glassware, ice or garnish.
To learn more about bar techniques and skills that can supercharge your performance, join Diageo Bar Academy to access exclusive insight.