How to get a job in a top bar
Author: Minakshi Singh, Co-Found of Sidecar, voted in the World's 50 Best Bars, and Cocktails & Dreams Speakeasy
Estimated reading time: 4 minutes
Are you an ambitious bartender looking to land yourself a job in a top ranked bar? If so, you've come to the right place. Minakshi Singh, Co-Founder of Sidecar and Cocktails & Dreams Speakeasy, bestows her best advice on how to make it happen, explaining the key skills she looks for in a candidate.
One of the most common questions I get asked is – 'How do I get to work at a top ranked bar like yours?' And sadly, the answer doesn't start with 'It's simple!'. But is it achievable with hard work? Absolutely.
Minakshi Singh
With that much curiosity, you would think we'd be inundated with amazing resumes for bartender jobs. And, for the most part, it's true. We have a regular stream of great resumes that come through, however, whether they make the cut in practice is a whole different story.
There are many resumes that come through because of all the glitz, glamour, and awards. But, in reality, it's not all fun, games, parties and guest shifts all the time. It involves some serious grind, backed with lots of learning, and incredible challenges to keep up the standards.
Tips to get a job in a top bar
So, where should you start, what skills do you need and how can you go about applying for that dream bartending job? Here are my key tips:
1. Master your current role
Firstly, it's good to have an honest conversation with yourself. Have you mastered your current role? In the race to get there the fastest, we tend to skip steps, and sometimes overlook the importance of grasping the basics. This could include:
If you have any skillset weaknesses or knowledge gaps, work on filling them before moving up or changing roles because, unfortunately, sooner or later that shows. It's a matter of clarity with yourself, and not comparing yourself with your peers. I really appreciate employees who are masters of their current role and show promise for the next step. That shows diligence and consistency.
Question to ask yourself would be: Do I know everything about the current role, and am I ready for more responsibility?
The Top 3 Skills I look for in a bartender:
2. Set Goals
That brings us to the importance of setting goals. When planning your career, set achievable short and long-term goals.
For example, learning how to handle your station from set up to closing is a short-term, achievable goal. A long-term goal could be the ability to handle the whole shift alone, without your supervisor, or team leader. Once you showcase a level of responsibility to any of your peer group, there is an automatic switch in respect and dependability.
3. Never stop learning
In today's world, there are so many training modules and resources available that it's a task in itself to cover most. There are some brilliant training modules at Diageo Bar Academy to help you keep up with the latest trends, ideas, and basics including:
The training could be on anything you're passionate about and keeps you in touch with your biggest drivers in the industry. For example, I'm currently undergoing a course on waste management and its challenges. No matter what level you're at, there's always more to learn!
Ready to put your bar knowledge to the test? Try taking a quiz!
4. Find a bar that matches your personality
It's important to look for a bar that matches your personality type, interests, goals and ambitions. Do your own internal evaluation. What makes you happy? Perhaps it's a relaxed tiki bar, or a formal cocktail bar – find what works for you. Next, shortlist and research the type of bar you love (given the amount of info on social media, it should be quite a fun and easy job!).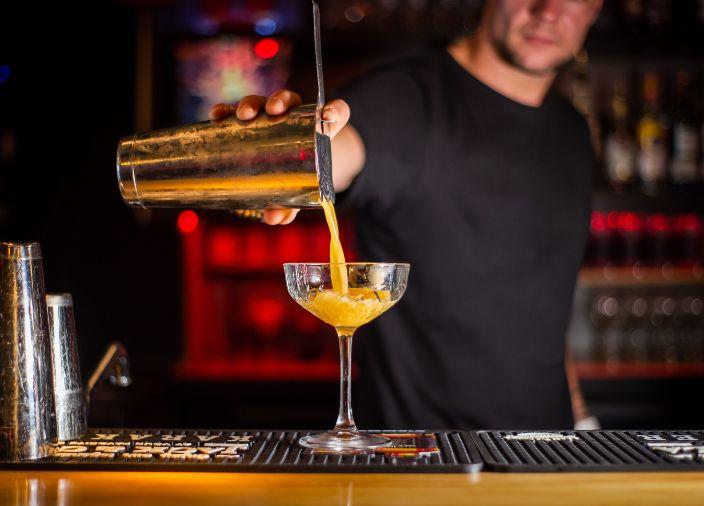 Tips on how to approach a top bar
Once you have shortlisted the bars, speak to fellow bartenders you might know in the venue or the city about the work environment, growth opportunities, and also general feedback. This can really help make up your mind. 
The next (very important) step is to create a professional CV or bio that you can share with the company. Ideally, if you know someone who can recommend you that's great, but if you don't, it's OK. Make the resume interesting; state your specialities, your strengths, and your passions. We love to see the human side of resumes.
Also, do remember to reach out to the right people. Resumes can get lost in HR systems! Most bars are run by owners so it's also OK to DM with a short bio, and then follow that up with an official email.
Lastly, we prefer a varied, exciting experience profile. You could be someone who has joined bartending from Front of House, as a chef, or a marketing professional! It's always great to see a refreshing new perspective in the business, and in fact as an entrepreneur, diversity in the team is priceless.
Good luck!
Key Takeaways
Master your current role with the basics of bartending
Set achievable short and long-term goals
Never stop learning on the job, through e-learning courses, Masterclasses and downloadable resources
Find a bar that matches your personality and you'll thrive
Sign up and become a member of Diageo Bar Academy for free today, to access exclusive masterclasses, e-learning courses and downloadables to supercharge your career.