Blogs & Inspiration
How to Make The Best Frozen Cocktails
Whether summer is approaching in your part of the world or you are looking to add an exciting twist to your serves, frozen cocktails could be the addition your drink menu needs.
Author: Ali Reynolds, Former Great Britain World Class Winner
Estimated reading time: 5 minutes
Former Great Britain World Class Winner, Ali Reynolds, gives us his tips on how to create the best frozen cocktails.
Working in the bar scene, I hold a lot of tastings to explore current ideas and ingredients. Tastings for unique events, tastings in different countries, and tastings for some of the best bars on the planet. Some of these tastings spread over two days.
I have learned that people don't like trying the same thing, and I must adapt each tasting to suit the audience. It can't just be from the same script each time, and a wonderful way to excite and offer customers something different is frozen cocktails.
Why Serve Frozen Cocktails?
Often popular in summer, frozen cocktails can give your outlet a point of difference and an opportunity to offer your customer something new and exciting! Don't rule out offering these serves at other times of the year, including winter when they can be a terrific addition to your seasonal menu.
A great benefit of frozen cocktails is that you make them in batches, in either a slushy machine or a blender, which can help speed up service and keep consistency of serve. Batch cocktails like this can be great for various occasions when large groups get together such as a sports night or a summer's evening.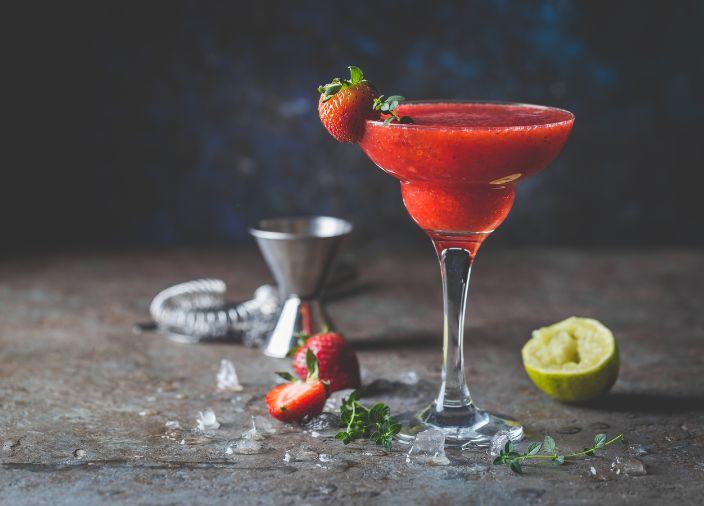 The Secrets to Frozen Cocktails
Frozen cocktails are best when the consistency of the drink is spot on, and this requires a decent blender and quality ice. Sugar content or sweet parts should usually be in a higher quantity than the sour parts, as the flavour will carry better through the diluted and frozen cocktail.
The Do's  
Get the right tools: A slushy machine can be a fantastic way to make and store a frozen cocktail. Alternatively, invest in a good blender! They will last forever, and they usually come with a good warranty.

Use quality ice: Pebble ice is the universal recommendation for frozen drinks. It creates a consistent texture and won't throw off the ratio of your serves.

Get your sugar levels right: It is always surprising how sweetness disappears in blended and frozen cocktails.
The Don'ts  
Think they are just for summer: I love a good frozen margarita in a warm basement bar in mid-December.  
Complicate it too much: You can use bold full flavours, but not too many of them. Look up some great combos that work well and stick to that.  
Tips for Serving Frozen Cocktails
Remember your glasses! Keep some rock glasses in the freezer to ensure your frozen cocktail keeps cool.

Make sure you fill the glass right to the top to create a fuller

,

more appealing serve.

When bringing the drink to a customer don't forget the straws. Remember, there can always be that awkward moment with a blocked straw, so make sure you have thick straws available.
The perfect frozen cocktails use quality ingredients. So,take the time to source top-grade materials for your serves, including spices, herbs, fruits, etc. You can grow your own or work with local farmers and producers to get organic ingredients.
Key Takeaways
Frozen cocktails are popular during summer, but you can offer them during other seasons

Treat your customers to unique flavours; they don't want to taste the same thing every time

Making frozen cocktails in batches ensure consistency in taste and speeds up service

Use quality ingredients when making your cocktails and avoid complicating flavours

Dazzle your guests with flavours of the season with a lineup of refreshing frozen delights like

MAMA-RITA

, ZACAPA SALTED

PIÑA COLADA

or

SCOTTISH CHILL
Join our global community on Facebook and Instagram, and let's interact!
Become a member
of Diageo Bar Academy for free today and get loads of extras, including exclusive access to our free menus, recipe cards, courses, and more!