Our Brands
Gordon's Premium Pink Gin
For those customers looking for something a little sweeter with their tonic. Discover more about Gordon's Premium Pink gin, inspired by an original recipe from the 1880s.
Estimated reading time: 3 minutes
Gordon's Premium Pink Gin
Sometimes, your customers will want something a little sweeter with their tonic. Inspired by an original Gordon's recipe from the 1880s, Gordon's Premium Pink Gin uses the natural flavours of berries and currants to give it its sweet and blushing tone.
WHAT IS A PINK GIN?
Believe it or not, the original recipe for pink gin was actually invented by the British Royal Navy in the 1800s. Back in the day, angostura bitters was widely used by sailors as a remedy for sea sickness, but the taste was so bitter that it was almost undrinkable! To solve this, sailors decided to mix the bitters with gin to help the medicine go down. And the rest, as they say, is history!
Luckily for us, the recipe has evolved over the years, and today Gordon's uses only the finest and freshest fruit flavours to guarantee the highest quality berry taste.
The Flavours of Gordon's Premium Pink Gin
Gordon's Premium Pink is the perfect choice for celebrations and special occasions, elevating classic gin cocktails with a pop of colour and a burst of sweetness.
Flavour Characteristics:
Fruity
Berry
Sweet
Aromatic
Bright
Tasting Notes: Based on an original recipe from 1880, this gin is a delicate shade of rose pink. An indulgent combination of rich vanilla and sweet, succulent berries. Graceful and buoyant with a distinctive, dry, raspberry zing.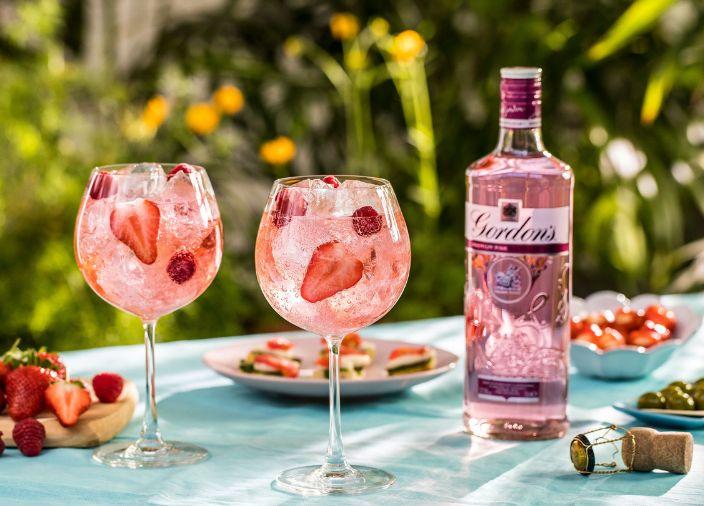 A Cheeky Addition to Every Bar
Did we mention it was pink? Not only that, but it is also based on an original Gordon's recipe from the 1880s – so it's tried and tested. Perfectly sweet, with a beautiful balance of berries and red currant, Premium
Pink is:
The definitive pink gin
An exciting addition to the gin category, adding different flavours, and fun, colourful serves
Fruity and refreshingly tasty
Gordon's Premium Pink is perfect for attracting a new set of customers with a colourful and flavourful gin.
Gordon's Premium Pink Perfect Serve
Everyone knows the perfect serve for Gordon's Premium Pink is tonic and ice, but there is a quick way to spice up your cocktail. Add a dash of prosecco to your Gordon's Pink and Tonic to make a Gordon's Pink Spritz that will be a crowd pleaser!
Learn more
Want to learn more about Gordon's and their wonderful gins? Check out the Gordon's brand page to learn more about the incredible history and the beautiful cocktails you can make.