Customer service skills
Learn the top customer service skills for bartenders including, communication, recommendations, upselling, speed and efficiency, and managing complaints.
Estimated reading time: 5 minutes
Bartenders play a crucial role in creating a welcoming atmosphere and ensuring that customers have a positive experience. Whether you're a seasoned bartender or just starting out, here you'll discover the key service skills you need to be at the top of your game:
Essential service skills
Greeting and communicating with your guests
How to provide great hospitality and experience
Creating loyal guests and customers
Making recommendations and how to upsell
Working efficiently and how to customer manage complaints
1. Is Customer Service A Skill?
Customers expect a recognised standard of service in your bar that help them have a relaxing and enjoyable experience. There are several essential customer service skills staff members should consistently meet to exceed guests' expectations. Operators who master the art of achieving these skills regularly will dominate the bar industry.
Three top customer service skills you need to smash guest expectations:
Communication Skills: Effective communication is key to providing excellent customer service. The main communication skills to focus on are, verbal, non-verbal, active listening, written and contextual communication.

Product Knowledge: You should be knowledgeable about your product offering, including its ingredients, flavour profiles and serving method. This provides opportunities to recommend and upsell to customers, to maximise profit and improve the overall guest experience.

Time Management: You will need to be efficient to ensure that drinks are prepared and served in a timely manner – which requires prioritising tasks effectively.
2. Recommending & upselling with skill
Recommending drinks and food that are complementary and tailored to the customer's taste will not only enhance their experience, but it'll also help increase your revenue. Taking opportunities to upsell from a standard pour to a premium spirit - for example, a Tanqueray London Dry gin instead of Gordon's gin - will also elevate your guest's drinking experience. However, it's important to use good judgement and not be overly pushy when recommending and upselling. 
For more information on what questions to ask your guest when making a recommendation, or simple techniques to help your upselling game, check out the below.
3. How to handle customer complaints
Sometimes, despite our best efforts, things can go wrong, and customers can become upset or dissatisfied with their experience in your venue. You should always aim to resolve the situation and defuse any conflicts as quickly and professionally as possible, whilst adhering to your bar policies and regulations. This, in turn, gives you the opportunity to learn from the issue and use it to enhance the customer's experience – converting an unhappy guest into a loyal customer.
4. Speed of bar service
In a fast-paced bar environment, you'll need to be responsive to guests' needs and requests whilst handling multiple tasks at the same time. The ability to operate in a fast and efficient manner can greatly enhance the customer experience. Here are some reasons:
In a busy bar environment, guests expect to be served quickly, especially during peak hours.
Help to manage your workload better.
Create a more positive atmosphere.
For more information on how to implement efficient practices, check out the below.
5. Great hospitality and guest experiences
It's important to focus on creating a positive guest experience through attentive serves, personalised recommendations and unique events. By going above and beyond to provide exceptional hospitality you can differentiate your bar from competitors, increase revenue through repeat customers and create a loyal customer base that will keep coming back for more.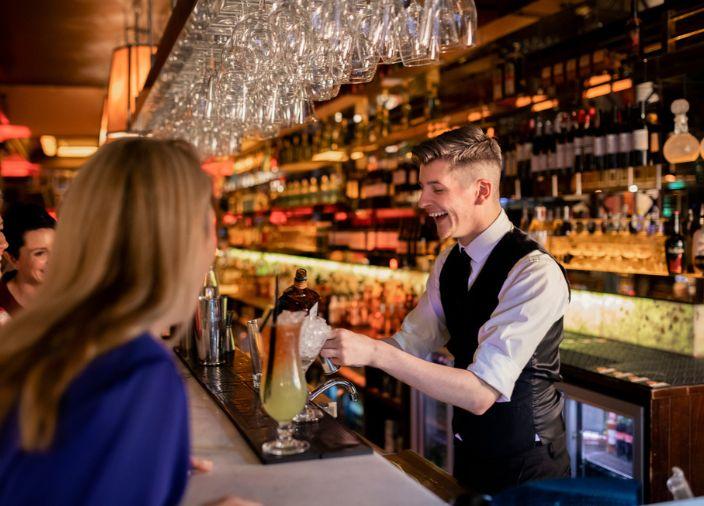 KEY TAKEAWAYS
Customers expect to have a relaxed and enjoyable experience when coming to your bar.
Communication – verbal, non-verbal, active, written, listening and contextual – is key to providing great service.
Know your products inside out. This will offer up opportunities to recommend and upsell to customers.
Take time to prepare and serve drinks in a timely manner.
Sign up and become a member of Diageo Bar Academy for free today, to access exclusive masterclasses, e-learning courses and downloadables to supercharge your career.